Ios is the perfect example of an island that follows and adjusts to new tourism and travel developments. In the '70s, the island was a hippy retreat, while, in the 80s and 90s, Ios stood as a top attraction for young revellers from Greece and abroad looking to party until dawn. Gradually, from 2000 onwards, the island's tourism sector players, realising that the travel experience had evolved, displayed their reflexes and swiftly adjusted to new market conditions.
Ios' beaches, overall setting and gastronomy, both traditional and modern, are all good enough to challenge other popular islands in the Cyclades and beyond. Without neglecting its active nightlife, Ios has upgraded its accommodation offering through renovations and the establishment of new luxury hotels with exceptional amenities, while also placing emphasis on the local culinary tradition, which helped revitalise the interest of travellers.
Where to go
Get to see all the island's sides and you will not regret. Head up to the Panagia Gremniotissa church to enjoy a view of Ios from an elevated position. Walk all the way to the Skarkos archaeological site with unique prehistoric discoveries. Pay homage to ancient writer Homer's Tomb, claimed by the island. Swim in the magical waters of Papa beach. Lose yourself in main town Hora's picturesque alleys lined with delightful little houses. And don't board the ferryboat for your return home without having tried the island's skotyri, an exceptional spicy, soft-textured cheese, as well as the tsimetia, stuffed courgette flowers.
How to get there
By ferryboat from Rafina or Piraeus.
Where to stay
Agalia Luxury Suites: Its sixteen spacious and comfortable suites of sparse design are mildly futuristic with luxury style. The large marble-surfaced bathrooms are impressive. The main swimming pool area typifies the spot's overall style and offers a superb view. (Koubara, +30 2286091019, www.agaliahotel.com)
Liostasi Hotel & Suites: A facility of Cycladic architecture, it offers comfortable, sunlit rooms of careful design and décor for discreet luxury throughout. The space at the main pool is lovely and offers a marvellous view. This facility features a spa. It is a member of the Small Luxury Hotels of the World. (Hora, +30 2286092140, www.liostasi.com)
Ios Palace Hotel: An elegant hotel built amphitheatrically on the slopes above Mylopotas beach, it offers rooms of various categories, spacious and filled with natural light. They are equipped with Kartell company furniture. The main pool, with a bar, is the meeting point throughout the day. The hotel also features a spa offering body and facial therapies. (Mylopotas. +30 2286092000, www.iospalacehotel.com)
Rita's Place Hotel: A classic holiday hotel of Cycladic style, its rooms are simple and well kept. Its advantages include a lovely view from the pool area. (Hora, +30 2286091836, www.ritahotel.com).
Psathi Beach: A good solution for a low-cost holiday, it offers five small yet tidy rooms just ten metres from the superb sandy beach. (Psathi, +30 2286092210, www.psathibeach.com).
The island also offers two camping facilities at Mylopotas: PurplePigStars (+30 2286091302) and FarOutClub (+30 2286091468).
Where to eat
Grandma's: Mediterranean cuisine prepared with emphasis on local products is served here. The wine list is good and the view from a tasteful veranda superb. (Hora, Liostasi Hotel & Suites, +30 2286092140, www.liostasi.com)
Agosto: Mediterranean cuisine with strong Italian influences is served at a charming veranda of minimal style. (Hora, +30 2286092020)
Ithaka: It offers well executed modern Greek cuisine, primarily fish and seafood-based recipes. The environment is elegant and intimate. (Port, +30 2286092184)
Alonistra: A traditional little taverna, it serves casserole dishes, mainly Cycladic, as well as grilled meat selections. The spot offers a lovely view of Psathi bay. (Psathi, +30 2286092363)
Vilaeti: A family taverna with a charming well-kept outdoor area, it serves generously portioned dishes. The goat baked in a wood-fired oven and the goat with dill are standout selections. (Epano Kabos, +30 2286092072)
Koutouki Tou Saini: A little taverna of classic style, it honours Greek cuisine in the best way possible. (Hora, +30 6973937083)
Local products
Skotyri (soft-textured cheese with savory), xino (creamy white cheese), kefalotyri cheese, wine, oregano, caper, fava.
Traditional products
Tsimetia (stuffed courgette flowers), matsi (pasta), mermitzeli (orzo pasta), kalasounia (sweet pies with cheese, honey and cinnamon), dried figs.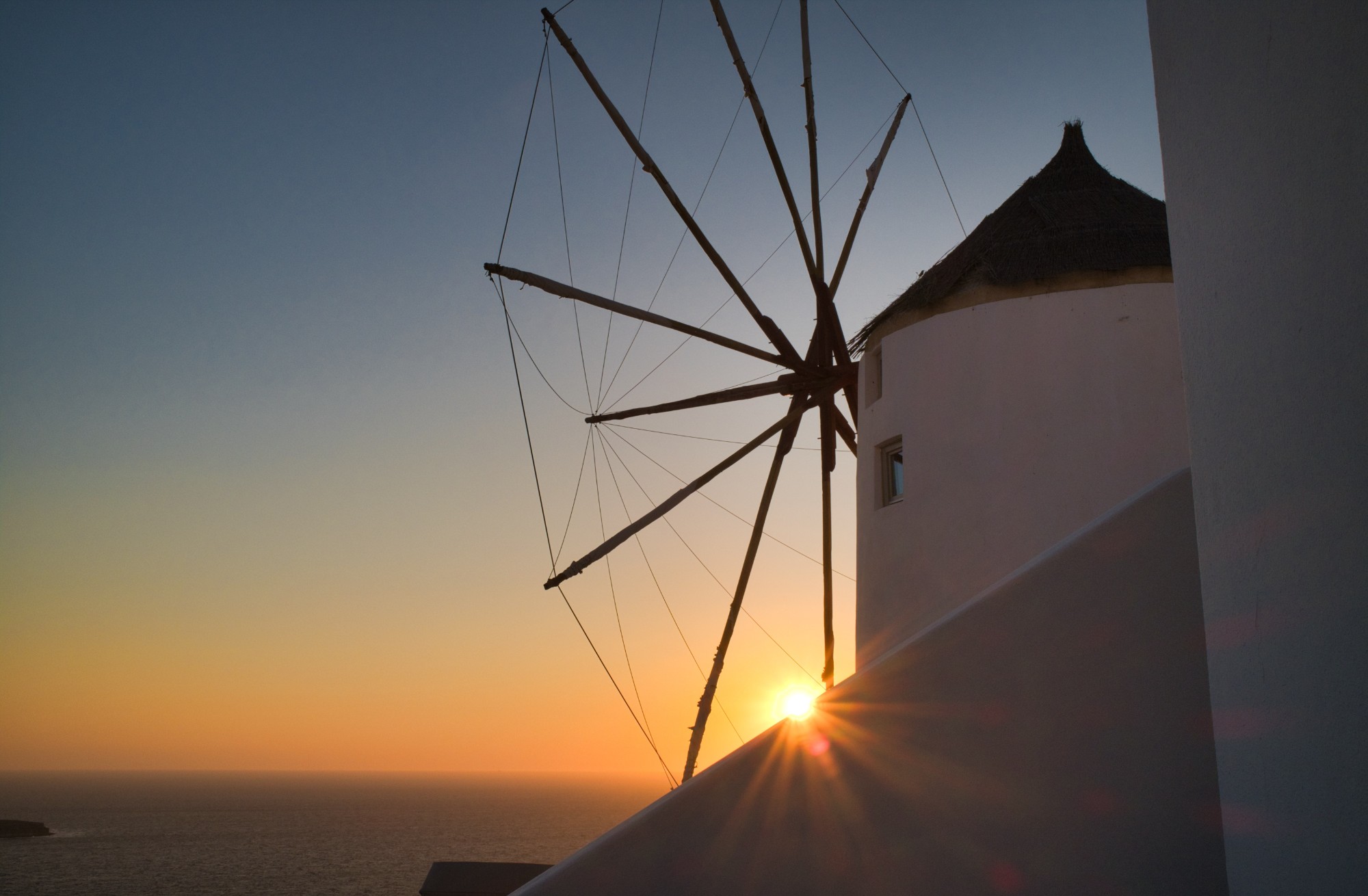 What to see
Without depriving yourself of entertainment on the island, relaxed drinks at the beaches and Hora bars, make sure you add to your agenda some of the attractions, truly special yet discreet.
Skarkos, an early Bronze Age settlement, is one of the most significant ancient settlements in the Cyclades as it offers vital information on Cycladic structure and organisation during antiquity. The site covers a space of 1.1 hectares, while its findings have been preserved in very good state. (Kato Kabos)
The Archaeological Museum, housed at a delightful neoclassical building, the Amiradakio Mansion, features artefacts covering the island's entire history. The majority of items on show were excavated at Skarkos. (Hora)
Paleokastro, dated back to the Byzantine era, is a castle whose strategic position offers an exceptional view. Inside its walls, the castle also features the Panagia Paleokastritsa church. This location can only be reached on foot. (Road towards Psathi)
Discoveries unearthed in 1175, as well as ancient references in writings by Herodotus and Pausanias, indicate that Homer's Tomb is located on Ios. According to legend, the ancient author of the "Iliad" and the "Odyssey" died heartbroken after not being able to solve a puzzle presented by a group of youngsters. (Plakoto, above the bay).
Panagia Gremniotissa church, perched at the highest point in Hora, offers an exceptional view that reaches all the way to Sikinos. It is named after its cliff location. According to legend, the church's icon of the Virgin Mary reached Ios from Crete when, during Ottoman Rule, a group of Cretans sent it off on a raft in an effort to save it. (Hora)
The Windmills, twelve in total, are situated at a hilltop in the northeastern section of Hora. Three of these have been restored and may be visited by the public. (Hora)
The Jean-Marie Drot Museum of Modern Art hosts the private collection of Drot, a French author and culture-themed documentary maker. The museum hosts paintings and other works of art from Greece, Haiti, France, Italy, Poland and other countries. It is reached via a narrow path and can be visited upon arrangement (Mylopotas, +30 2285022725).
Hora, the main town, a stone's throw away from the port, is spread over the hill above the bay. It has been classified as a traditional settlement and is worth exploring in detail as it exemplifies Cycladic architecture. It features both small and large square houses, orderly positioned side by side, as well as tidy alleys superbly combining ancient Greek elements and more recent traditional architecture.
Where to swim
The island is endowed with some of the most impressive beaches in the Cyclades. Their relaxed nature promises to let you in on what an authentic summer experience is all about.
Mylopotas, the most popular swimming spot on the island, is long with a big sandy beach and superb waters. It is serviced, while watersport needs are covered.
Kalamos is a large non-serviced beach with amazing waters and sand. It is reached via a dirt road.
Papa beach, one of the island's most beautiful, features sensational water and a lush surrounding landscape. This is an ideal spot for individuals seeking serenity.
Psathi, a relatively small beach, is perfect for relaxed swims as it is serviced just on one side.
Magganari is made striking by its white sandy beach and turquoise waters. The beach is serviced but some parts remain free. Small tavernas are situated within close proximity.
Tris Ekklisies, a tiny beach, is remote with exquisite waters. Make sure you are stocked up on necessary goods as this spot is not serviced. Some walking is required to reach this beach, but it is worth the effort.
Tzamaria, situated close to Gialos beach, is reached by walking through a narrow path. A beach with sand and pebbles, its waters are fine.
Agia Theodoti is a large beach, which, despite being serviced at one section, offers ample space for visitors preferring a quiet experience. The sunrise is amazing from here.
What to do
The island offers a wide range of activities, including kitesurfing, trekking, scuba diving and boat excursions.
Mylopotas and Magganari beaches, as well as the beach at the port, are ideal for water sports such as windsurfing, kitesurfing and scuba diving. If you would like to discover the island's hidden beauties, secret beaches with blue waters, take a boat ride around the island. Embark at Ios port. Ios is one of those islands worth covering as much possible on foot. Its network of trails, well maintained, pass by picturesque churches and archaeological sites to reach lovely beaches. Two routes, one from Hora to Kolitsani beach, the other from Koubara beach to the island's lighthouse, are short and relatively easy to cover.
Musts:
Skotyri cheese, Skarkos archaeological site, Agia Theodoti sunrise.
Info/useful telephone numbers:
Ios Medical Clinic: +30 2286360000
Ios bus company (KTEL): +30 2286092015
Ios port authority: +30 2286092264
Ios police station: +30 2286091222
Ios municipality: +30 2286360400