In Greece, it is often said and heard that cities and bicycles are not compatible, but is it true?
Every city has its small oases, places suitable for recreation and outdoor activities. Athens is no exception, as it is full of squares, pedestrian streets and parks, not to mention its mountains and cool forests. Let's take a look at the best places to go cycling in Athens, either alone or with your friends and family.
Acropolis and the historic centre of Athens
Cobbled streets, picturesque alleys and views of the Acropolis from almost every corner; the historic city centre of Athens is one of the most beautiful parts of the city. Passing through Anafiotika (a scenic tiny neighbourhood perched on the hill of Acropolis) and reaching up to Thiseio, Dionysiou Areopagitou Street is a beautiful stretch, ideal for pleasant bike rides. To avoid the crowds, better plan your rides midweek. You may also enjoy a pit stop for a nice cup of coffee in the picturesque city centre.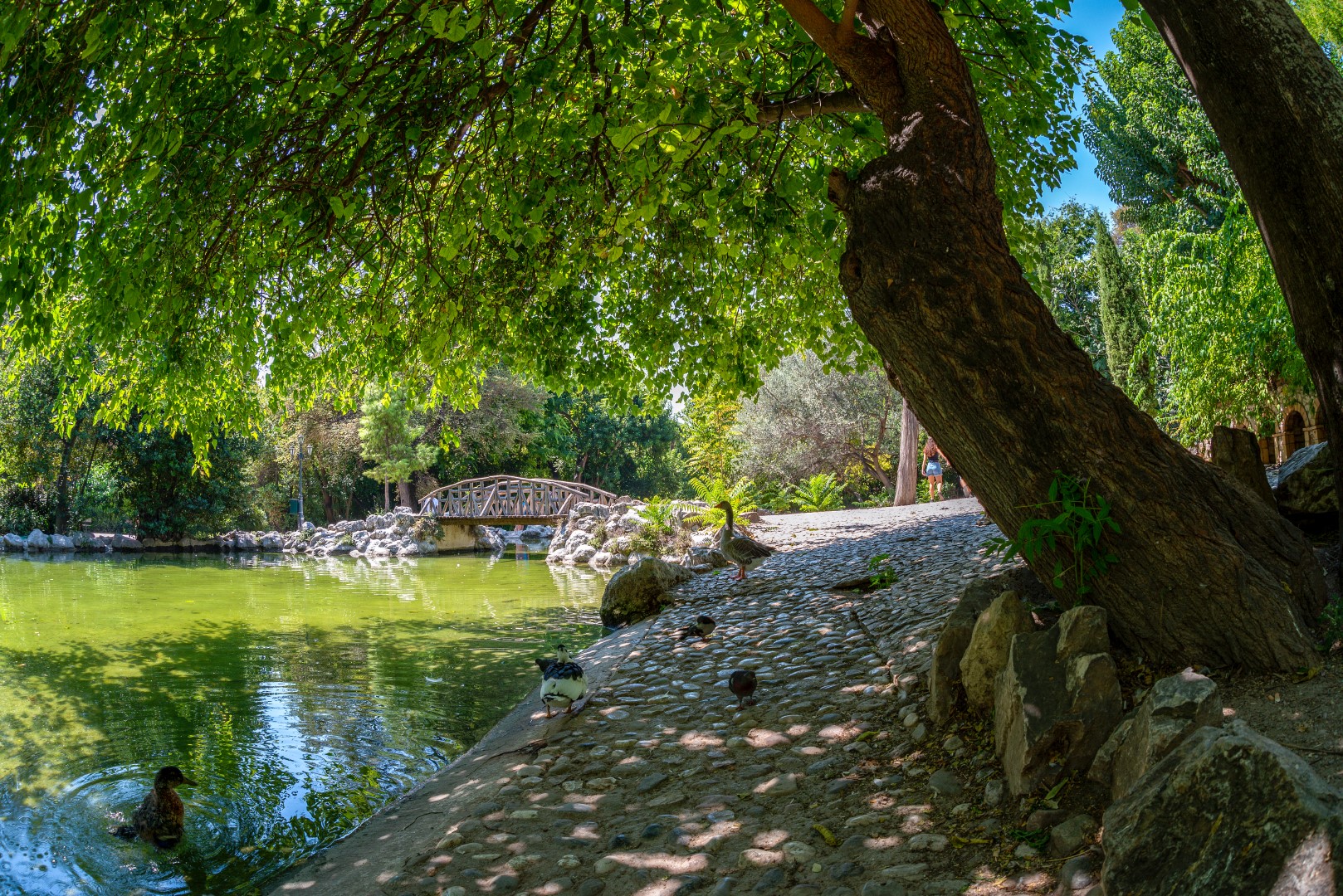 Zappeion and the National Garden
The National Garden is one of the most beautiful green spaces in the entire region, which together with the gardens of the Zappeion Megaron constitute a lush green area of 285 acres. Hence, here you may enjoy a bike ride surrounded by tens of thousands of trees, where birdsong fills the air. While here, you'll be surprised by the tranquillity and lack of air pollution and, although next to Syntagma square, you might even forget that you are in the very heart of the city centre.
The National and Kapodistrian University Campus and the National Technical University Campus
The areas around these two campuses may not be particularly charming, but they are ideal for bike rides. Some might argue that this is not a nice place for a walk, because of all these old and neglected buildings. However, the place is ideal for cycling, as it boasts many asphalt and dirt paths. Choose this place to go cycling with your children, as it is secluded and fenced.
Pedion Areos
A particularly vibrant place in the centre of Athens, bustling with activity; elders and youngsters, families with young children and pets, groups of friends, all enjoy this beautiful park, which is also a great place for cycling. The park is very large and features everything from a canteen with tables and benches in the shade to large tree-lined areas or clearings. It is therefore suitable for many outdoor activities, which can be combined with a nice walk. At the same time, it is the ideal place for group cycling.
Peace and Friendship Park
The centre of Athens is great, but, in stark contrast to Piraeus, it is far from the coast. The Peace and Friendship Park is an excellent choice for those who wish to cycle by the sea, as it covers large areas of infrastructure for lots of activities. It is also perfect for a leisurely walk or spending a lazy day lying under the trees. There is a special area for pets, where they can play and socialise, while you watch the games on the surrounding courts (basketball, beach volley or tennis). Located right next to the park, Mikrolimano is the perfect pit stop for a nice cup of coffee before getting back on your bike.
Antonis Tritsis Park
Covering an area of 100 hectares, the Metropolitan Park of Environmental and Educational Activities Antonis Tritsis is the largest park in Athens. Here a bike ride or any kind of stroll is a delight thanks to the five artificial lakes that create an exceptional setting and host the rich flora and fauna of the park. Whether you are fond of leisurely or more challenging bike rides, you we will definitely enjoy cycling here, as you will find everything from flat trails to difficult paths for the adventurous ones.
Syngrou Park
Back in the centre of Athens, let's visit the Park of the Syngrou Estate. Full of circular paths, this place is ideal for cycling. As the cycle paths here are of varying degrees of difficulty, anyone can enjoy a ride. The park covers an area of about 1,000 acres, most of which is filled with pine trees. Fenced and guarded, the park is suitable for all kinds of outdoor activities. Note that at night there is no lighting; therefore, it is recommended to visit the park between sunrise and sunset.
Stavros Niarchos Foundation
The large area around the Stavros Niarchos Foundation is the ideal environment to indulge in sports activities. Especially those who love cycling will be impressed by the well-maintained cycle path that surrounds the foundation and allows for calm and safe rides. For those who do not own a bike but would like to try, the foundation offers bike rentals to both children and adults, as part of its commitment to sustainable mobility.
Mount Hymettus and the Kaisariani Monastery
Located on the west side of Mount Hymettus, the Aesthetic forest of Hymettus offers deep breaths of fresh air and a lush green environment away from the urban hustle and bustle. The air of the mountain is invigorating, while the dense forest boasts many beautiful spots where you can rest, if you feel like you need a break. Nestled between cypress and oak trees, at an altitude of about 350 metres, sits the Monastery of Kaisariani. You may also take a break at Kalopoula, where a charming refreshment stand offers hot and cold beverages, as well as a few snacks.