The large-sized and tall 4X4 moved slowly and majestically, almost arrogantly, along the accessible dirt road above the Corinth area's Mesea (Middle) Trikala region, towards densely vegetated Mount Ziria, the Peloponnese's second-tallest mountain.
The amount of time we had was insufficient to fully cover one of the area's signposted trails, prompting Velissarios Tzanopoulos, a resident who adores this scenic region he has chosen to live in, to offer us a combined jeep-and-trekking tour.
The reddish-coloured earth underneath the jeep's large wheels was soft but not muddy following recent rainfall. To the left and right, the coniferous forest was so dense it appeared impenetrable. Its beauty offered instant tranquility, generating a strange desire to lose yourself in it. Velissarios' driving, calm and respectful of the co-passenger, suggested he has offered this introductory tour many times before.
It did not take long for us to reach the first stop of this friendly tour, at a clearing, a small valley devoid of vegetation, except for a single tree at its centre that was marked with a small red square sign, indicating the path of a mapped trail.
Each trail has its own signs of distinct colour and shape to avoid confusion. Mountain trekking needs to be taken seriously with discipline and respect for rules so that potentially dangerous misadventures can be avoided.
Trekkers need to be fully equipped with the right gear, including shoes, clothes, raincoat, some food, water and a first aid kit. Also, using mobile phone geolocation features can prevent unnecessary adventures and save lives.
As we put back into place a fallen signpost, which may have been blown down by the wind, I noticed a tiny chapel nearby, Agios Nikolaos, between firs and ferns, with a small lit lantern. The chapel has a full view of Mount Ziria's peaks and slopes, like a divine observatory offering protection and advice to mountain visitors.
After literally climbing back into my seat of this enormous jeep, we continued towards lake Dasiou, which was still relatively dry ahead of winter. The setting was wonderfully bizarre. The soil in areas covered by some water resembled images of planets under exploration. It is an entirely different picture when the lake is filled with water, its glass-like surface reflecting the surrounding nature, I was informed. Also, when temperatures drop considerably and the lake freezes, it can be crossed on foot, or slid across. Enjoy responsibly, if you happen to visit under such conditions.
Around the lake, cows and half-tamed horses roamed about freely, carelessly enjoying their grazing and the serenity. My effort to approach them for close-up photographs eventually paid off, but I needed to be extremely patient by taking small steps at a time, pausing regularly, looking indifferent and even sitting on the ground to erase any height-related fear factor. The wonderful horses surrounded me at once with curiosity and signs of acceptance as they continued to graze closely around me, forming a barrier protecting our new friendship.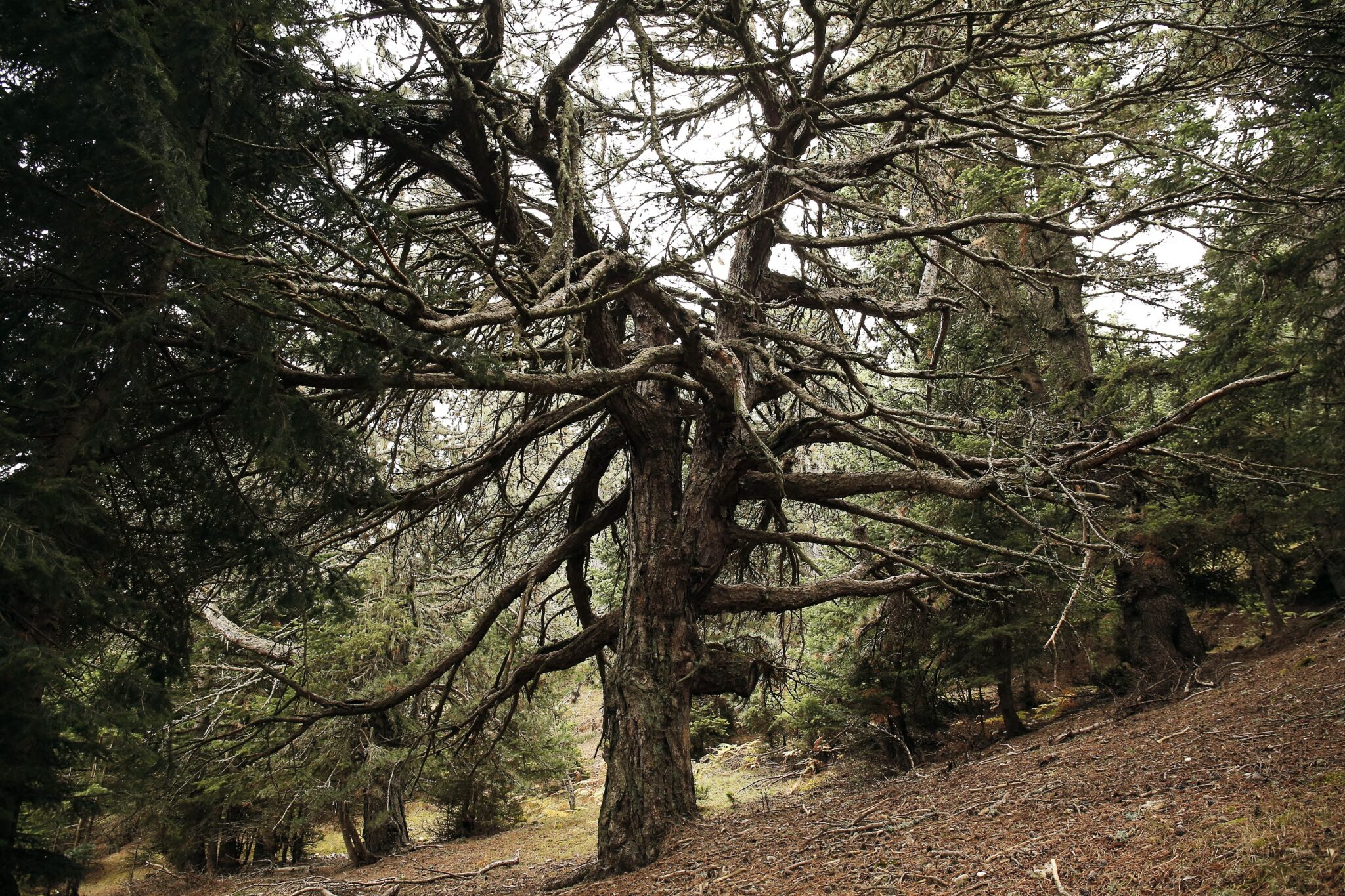 Departing, as quietly as when we arrived, we realised we had strayed hundreds of metres away from the point where we had left the vehicle. We easily revved over an elevated section to reenter the tarmacked road headed towards the Ziria snow resort with the purpose of trekking along another signposted trail higher up, above the cable car station.
We left the vehicle towards the top of the hill, which it had reached with the now-accustomed ease, and began trekking along an uphill trail between fir trees and moss-covered rocks with paint signs on them for direction. Each step felt fulfilling at this mountain setting, full of freshness. The vistas were breathtaking, whether looking out eastwards to Flabouritsa, or north towards the Gulf of Corinth, and Mount Parnassus, further north on mainland Greece. The view from the end of the trail, which we did not get to, is even greater, I was informed, reaching the peak of the Parnon mountain range in Laconia, southeast Peloponnese, the Argolic Gulf, off the east coast of the Peloponnese, and further east. I was filled with a sense of achievement, combined with the wonderful feeling that comes with being immersed in nature.
On our way back to the starting point, Mesea (Middle) Trikala, we made a stop at the beginning of the "Perdikoula" trail. The small yellow triangle-shaped 'Perdikoula' trail sign was placed at many parts of the route; on tree trunks, rocks, branches and behind ferns. The forest here seemed like a wooden room with branches decorating the walls and ceiling. The silence was intensified by the contrasting sound of our gentle footsteps over moist fallen leaves.
As we approached the trail's exit, a little before dusk, I was at the back of our little trekking group. The others carried on as I stayed back for a few minutes at an area with ferns, the day's final sun rays seemingly piercing through the forest roof to shed light on these rich green plants. With Tim Burton's films in mind from the early stages of this marvellous excursion, I was once again reminded of the unjust distance we have created for ourselves from where we belong, in nature.
Information on trails, maps and signposts may be found at the website: trikala-korinthias.gr/ta-monopatia-tis-zireias/