These days, hotels represent so much more than what they used to. They are a destination offering a particular way of life, an entity expected to offer a view on matters, leisure time, comfort and life quality.
The Hyatt Regency Thessaloniki continuously welcomes back guests who keep returning to the hotel to re-experience its multi-faceted experience in terms of gastronomy, wellness and, primarily, the undisputable value-for-money characterising the standard of its rooms.
How is this objective achieved and developed? What is the role of a hotel's personnel in shaping a holistic experience for customers, one based on hospitality, as defined by our era?
Elena Biniari, general manager at Hyatt Regency Thessaloniki, typifies and embodies the aesthetics, cosmopolitan ways and knowledge required by the times and traveller expectations. She elaborated on details making up the hotel's philosophy and culture in an interview with Travel.gr.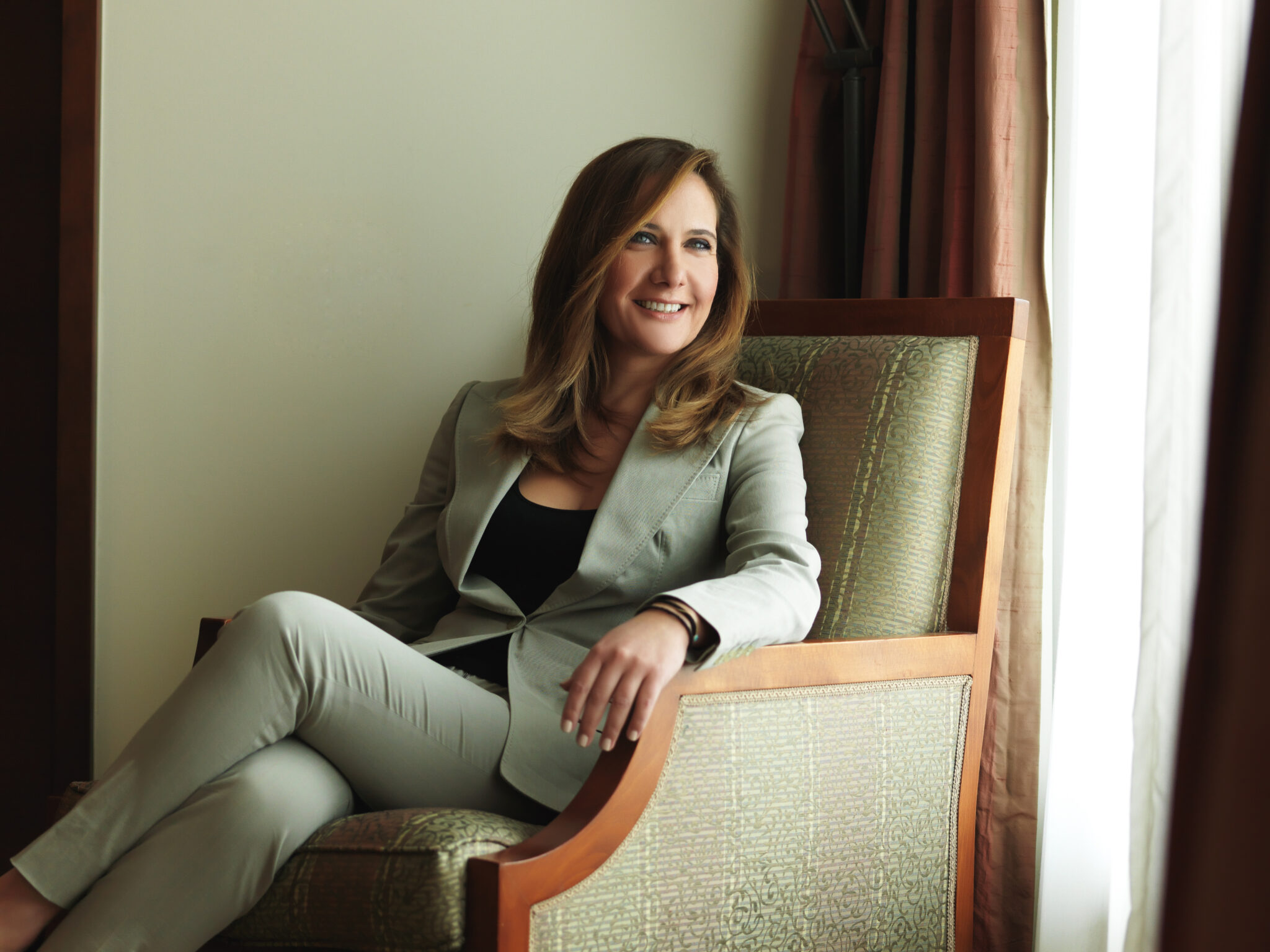 What are the wow factors and the competitive advantages of the Hyatt Regency Thessaloniki?
We have received an award for best City Resort, amongst other distinctions. Having, at our disposal, unique facilities, exceptionally maintained lush gardens, indoor and outdoor swimming pools, a fully equipped gym, one of Greece's most luxurious spas, and rooms that are spacious, well-kept, modern and stylishly modern, we are carrying on, respectfully, to manage all that was created by pioneering people, with a vision for Thessaloniki and the guarantees offered by an international chain of enormous scope and prestige.
At the same time, we are continuously adding special new touches, such as a 2-km trekking trail, which we completed in 2021 as an initiative that offers our guests a different type of beneficial experience, physical exercise for the body and mind.
Is this an era of exploration and discovery of experiences? If so, how can a city hotel cater to such a trend?
As a creative reaction to the pandemic and its long-distance travel restrictions, we decided to create alternative activities because we wanted to bring back joy and originality into everyday life by transforming it from an experience of fear and threats to one of environmental protection, as well as support with regards to sustainability, discovery, health and projection of positivity.
In this way, then, our aim, besides the hotel's overall hospitality and entertainment experience, is to represent a one-stop-wellness-experience destination, amid the finest conditions of the wider region. We are already preparing packages covering beauty, wellness, exercise and reinvigoration, which will include combinations of the aforementioned high-standard services.
Please give us some surprise tips on how one can enjoy an even better time at the Hyatt Regency Thessaloniki.
Staycation better than vacation! Guests devoting 48 hours of their time within our walls will have the opportunity to discover pleasures, while also enjoying the most relaxing, safe, reinvigorating and luxurious holidays. It is no coincidence that we have a high percentage of repeat customers.
Our desire to enhance the hotel's wellness identity is highlighted by our collaboration with OsteoStrong, a partnership established in February, 2022. OsteoStrong's wellness and bone health centre, which has been operating in Athens for the past two years, offers leading services covering wellness, prevention, decongestion of the muscular system from the intensity of daily life, recovery and anti-aging. We await you. You will be amazed!
It is truly reinvigorating to enjoy, before or after breakfast, a walk along the aforementioned trekking trail, which we routed around the hotel. This trail truly rids the mind of any burdening thoughts. Guests may also enjoy yoga in the gardens; mindful walking; swimming in the hotel's heated or outdoor swimming pool; therapeutic massage or facial massage at the Harmonia Spa; nutritious and delicious menus curated by nutritionist Eirini Paschaleri; as well as any of OsteoStrong's biohack wellness services, such as Red Light Therapy, PEMF Therapy, NormaTec compression therapy boots, and the X3 bar.
What was your incentive when you joined the Hyatt team and how has this developed?
My motto is: 'The biggest achievement is to blur the dividing line between work and play'. From a young age, I discovered that hospitality and interactivity with the people I'm taking care of is what I like doing best. So, I was fortunate that Hyatt has given me the opportunity, amid the finest conditions, to enjoy, on a daily basis, the special glitter in the eyes of people who choose us. This is the greatest possible reward and incentive to keep going.
In the age of the 'new normal', potential, which served as an initial incentive, is being enriched with even harder effort, versatility and optimism, so that we can shape the course of things, not vice versa.
What quality do you think you have brought to the Hyatt Regency Thessaloniki and to what extent has Hyatt's culture influenced you?
Having been born and raised in Thessaloniki, I consider myself to be one with the city and its people. So, I can better express this special aura and culture to guests from faraway places, while, as for locals, I can offer them services which I know they need and appreciate. Personally, I feel the concern, respectfulness and creative anxiety of a hostess who wants to fully satisfy her guests. But I never cease to also work closely with my colleagues at a place whose Hyatt brand name guarantees that everything is done in accordance with all top international standards.
It is very important that the high quality standards, anthropocentric principles, values and visions of the Hyatt, on the one hand, and the Regency on the other, have come together at the Hyatt Regency Thessaloniki. We all feel very fortunate about this meeting of standards as it creates an exceptional environment of cooperation and creativity that inspires our personnel and is acknowledged by our guests.
Some of the reasons to visit the Hyatt Regency Thessaloniki:
Harmonia Spa
The Harmonia Spa offers a unique, luxury wellness experience. It represents escape in the city for relaxation and reinvigoration. Choose one of the rich programmes, guaranteeing wellness care that is entirely adjusted to your personal needs.
Gardens and the outdoor pool
As noted by Mrs. Elena Biniari: "Staycation is better than vacation". There is no better place to spend a few days in the city while, at the same time, having constant access to lush gardens, an outdoor swimming pool, gym, elegant and spacious outdoor spaces as well as sports facilities.
Greek gastronomy at its best at the Ambrosia Restaurant
The Regency Thessaloniki's Ambrosia Restaurant, offering a summer menu curated by executive chef Apostolos Altanis, is good reason, itself, to visit the hotel. The main principle of the chef and his team is dedication to local seasonal products and high quality. The menu is based on traditional Greek recipes prepared with a modern, creative and innovative twist. The Ambrosia Restaurant has always stood as a favourite fine-dining choice for Thessaloniki's residents, as well as a very good reason for many travellers to visit the city.
Regency Casino Thessaloniki
Located very close to the hotel, the Regency Casino Thessaloniki, a true playground for adults, is a different type of casino, altering its image. Besides classic table games, this casino also offers cash-prize draws, as well as offers and surprises, all carried out in exciting ways.
The Regency Casino Thessaloniki is a place where games meet fine dining and drinking, at two restaurants and a lounge bar. Alfredo's Grand Dining offers a menu that is also curated by Apostolos Altanis. La Terasse is ideal for comfort food enthusiasts. Ian's Bar serves classic cocktails amid a setting that resembles American speakeasies of the country's Prohibition era a century ago, as well as more modern and refined cocktail selections.
"We laugh here.gr", a musical satire, and the Greek Cup Final at the Vergina Theatro.
The Vergina Theatro, adjacent to the Regency Casino Thessaloniki, is a venue offering entertainment that combines comedy and quality music.
The Hyatt Regency Thessaloniki's Vergina Theatro is staging a musical satire titled "We laugh here.gr", featuring a top-class cast of Greek entertainers. Giannis Zouganelis, Eleni Kastani, Spyros Bibilas, Tania Trypi, Panagioitis Petrakis, Vicky Kavoura, Thodoris Panas, as well as Makis Delaportas, dance, sing and perform hilarious sketches conveying stories of everyday madness, offering answers, through their unique way, to major issues of our times. Every Friday and Saturday night, at 22:00. This Saturday (May 21), football fans may enjoy, as part of the theatre's overall offering, the Greek Cup Final, projected live on the city's biggest screen, in Full HD, amid a lively atmosphere.
Read also:
Five lovely beaches near the centre of Athens
Thessaloniki celebrates the e-bike