Filaretos Psimenos, owner of the guesthouse "Amanita" and author of the book "Οι γαστρονομικές ανησυχίες ενός ξενοδόχου"* (tr. "The gastronomic concerns of a hotelier") admits that a lifetime is not enough to get to know this mythical mountain.
And he further shares much more with us: his interest in tourism, his love for cooking, emphasizing local and seasonal products, but also the small moments of happiness offered by the generously endowed nature of Pelion.
How did you find yourself in Pelion? What were your thoughts and expectations when you started working in tourism 15 years ago?
Over the years I have come to believe that Pelion was the one that chose us. Our first contact was in 1986, when I was serving in the Air Force in Nea Anchialos. It was then that I got to know some parts of it and got a hint of its unique beauty and diversity. Since then we would return from time to time, choosing Pelion as a place of escape and holidays. In 1992 we bought a land with a ruined old mansion in Tsagarada and in 2002 we began the reconstruction in order to set up the guesthouse, which was completed in October 2006. Since then we have been involved in tourism, in a slightly different fashion of course.
As we had no professional experience in tourism, we relied on our personal experiences as travellers, as we liked to explore and get to know each place we visited in depth. We have always been lovers of quality food, local products and "poverty cuisine", moreover. From the very beginning we've been trying to share this perspective with our guests, i.e. to offer them an authentic "Pelion experience" through our own eyes and encourage them to "develop" their own perspective, through outdoor activities and a farm-to-table breakfast.
Tell us a few words about the guesthouse "Amanita".
"Amanita", our guesthouse in Tsagkarada is a small family-run business consisting of a total of 9 rooms, apartments and studios spread over 3 buildings. It is located on a 3.5 acre estate that features a fertile orchard with more than 100 fruit trees, surrounded by chestnut, wild chestnut and plane trees. Nestled between the deep blue Aegean Sea and the lush green mountain, the guesthouse is built on a nodal point of the old path network that connected the port of Damouchari with the mountain and the districts of Tsagarada.
From the very first moment we have given great importance and put a lot of effort into our breakfast, which is served daily from 8:30 to 11:00 with absolute respect to both seasonality and locality. Most of the viands served are of our own production, made with our own produce. However, we also cooperate with local producers who supply the rest. In fact, we try to offer an insight in our culinary culture and a first acquaintance with the local cuisine.
In recent years, we organise farm-to-table or forest-to-table cooking courses, preparing local dishes, characteristic of the "poverty cuisine", as presented in our book "Οι γαστρονομικές ανησυχίες ενός ξενοδόχου"* (tr. "The gastronomic concerns of a hotelier").
How does the second summer season with Covid19 find you?
It was a very creative winter, during which we experimented a lot with food preservation techniques, combining our knowledge of tradition with the new possibilities offered by technology. We are currently constructing a new building and a recreational area for various outdoor activities (cooking classes, etc.), as well as lounging areas within the property.
What did you have to change in the way the guesthouse operated based on health protocols and how did you adapt your services?
Most of what the protocols require (sanitation, etc.) was also observed in the pre-Covid19 era, so it was simpler to adapt to their requirements. We have made changes, which are not easily noticeable to visitors, and are more about internal processes. Most importantly, we have made even more use of our courtyard, where we now exclusively serve our breakfast.
Tell us more about tourism in Pelion. What has changed in recent years? Where do most visitors to the region come from?
In the last five years before the Covid19 era the geographical origin of visitors to Pelion has changed greatly. From a destination that targeted 90% domestic tourism, it has managed to attract a lot of inbound tourism, to such an extent that in several establishments foreigners have outnumbered Greeks in terms of overnight stays. Most importantly, our foreign visitors hail from several countries, particularly developed ones, and they have an excellent profile (explorers, hikers, with an interest in local culture and gastronomy).
Will you be our tour guide for a day?
Gladly! That's my passion!
But of course, a single day is not enough to see even the village of Tsagarada. So we will attempt to combine mountain and sea. We'll need a car to see as much as possible, but we'll also need walking shoes.
Tsagarada has 4 districts, therefore 4 squares and 4 churches, each in a completely different style. We should definitely start from the central district of Agia Paraskevi, which spreads out around the thousand-year-old (and more) plane tree; a natural wonder capable of "grounding" us by relativizing concepts such as time, life, the present and the future. From the plane tree we will walk along the cobbled path to see the old stone-built schools of Tsagarada (Nanopouleio and Achillopouleio), admiring the art of the old masters and the contribution of the rich donors who acquired wealth in Egypt in the 18th century and wanted to give to their village.
Our next stop is Taxiarhes square with its fourfold fountain and the wonderful view of the Aegean Sea. The church has an ornate carved wooden iconostasis; on all the routes through the village we will admire old mansions, in various stages of grandeur or abandonment.
Driving down toward the sea, amidst lush greenery and chirping birds, we will pass waterfalls, paths that disappear into the forest, orchards and olive groves. Our destination is the famous beach of Mylopotamos. We park and walk down the stairs admiring the complexity of nature, which has created a double beach, one of which is located under a cave with access through a hole in the rock. Depending on the season and your stamina, swimming is strongly recommended. Before we leave we can go down the (several) steps to the right of the parking lot to see the real Mylopotamos, the river that flows into a rocky shore, the wooden bridge and the chapel of Zoodochos Pigi.
We are not done with the beaches yet. Our next suggestion is Fakistra, a beautiful small beach with difficult access. Lying on the sand with the Aegean Sea stretching out in front of us, sharp cliffs looming behind us and the waterfall sending the fresh water of the mountain to meet the sea, we will feel rewarded. If we have time, we can walk along the cobbled path that leads to the cave with the chapel of Panagia Megalomata, which stands high above the crystal blue waters.
For the end, I suggest you quench your thirst and satiate your hunger in one of the many dining options of the village under the cool shade of the plane trees.
And if we stay longer, what shouldn't we miss around here?
Longer stays should include some good hikes: "Tsagarada-Damouchari" –the old path for transporting goods-, "Mylopotamos-Limnionas-Lampinou" –coastal path that passes through three different beaches-, "Tsagarada-Agios Athanasios En Atho Chapel- Tsagarada" –the road of the mountain and the chestnut trees- and "Agia Paraskevi-Taxiarhes" –the path between the two big districts of Tsagarada.
Besides Tsagarada, visit the village of Kissos and the church of Agia Marina featuring pop art iconographies by Greek folk artist Pagonis, the beaches of Papa Nero, Plaka, Agioi Saranda and Limnionas. Visit also the little-known beaches of Kalamaki, Potoki, Pantazi ammos or take a day trip to Trikeri.
Pelion is inexhaustible, it may take more than a lifetime to get to know it, so let's be brief. You might just need to smell the wild peas, rub your hand on a wild oregano top, listen to a nightingale or notice the wrinkles on the surface of the sea as the night air caresses it, have a glass of tsipouro (a strong distilled spirit) in the dew watching the sun disappear, enjoy a spoon sweet (traditional sweet preserves) with a cool glass of water under the plane tree at noon as cicadas stealthily sing in the backdrop. In other words, leave all your worries behind for a brief moment of total contact with nature.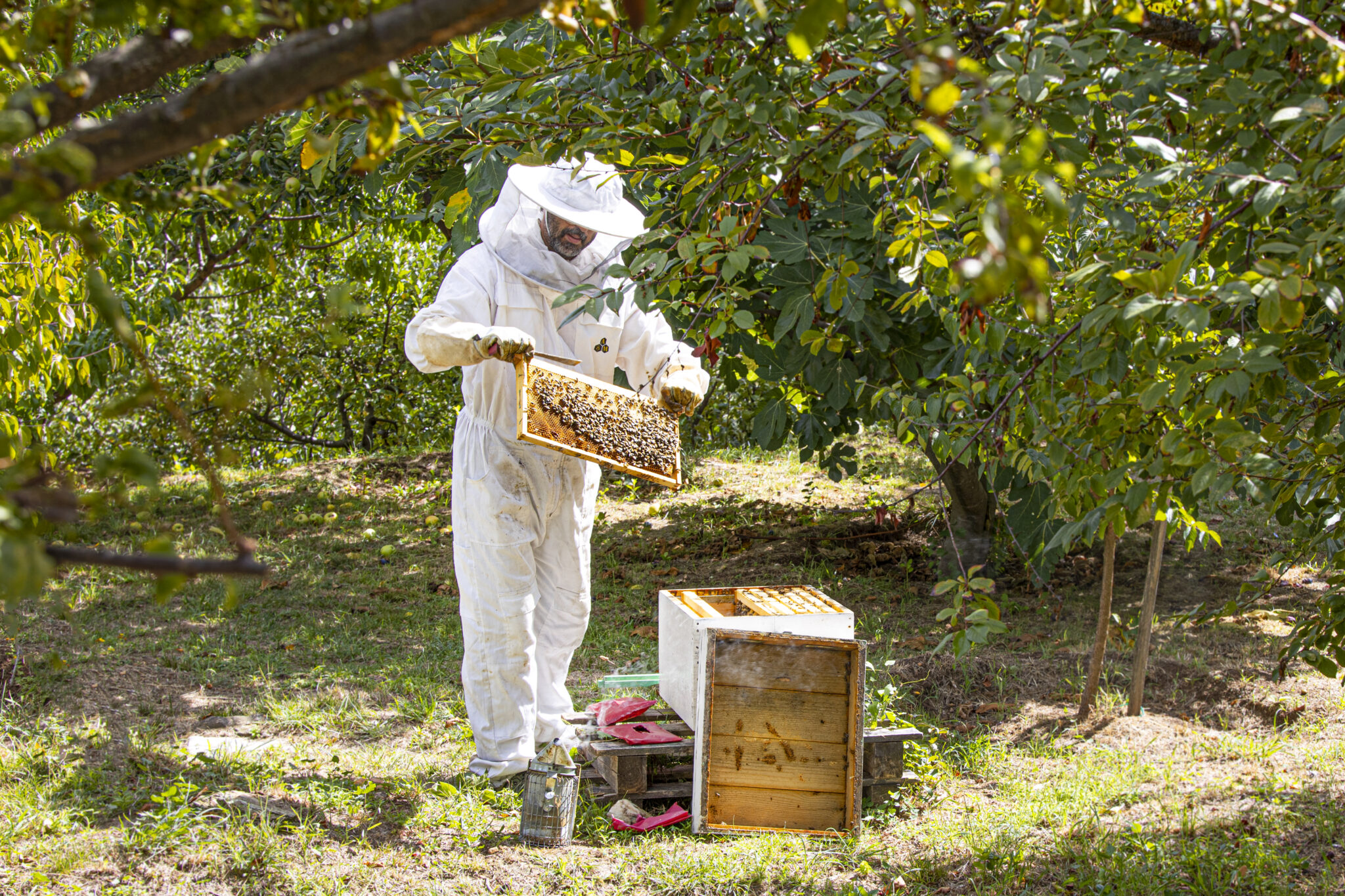 Favourite season?
Spring. Every spring demands the resurrection of nature, which is never denied. Every spring flowers and birds fall in love again. In spring, new leaves sprout on dry branches, the forest comes alive. In spring our bodies rejoice, we have overcome yet another winter.
View?
In Sourvia, below the district of Taxiarhes, there is a half-abandoned municipal gazebo, towering over the gorge of Mylopotamos, offering a multisensory experience; eyes are filled with stunning mountain and sea views, the sound of flowing water tickles the ears, the air caresses the skin. So, why not please our taste buds by enjoying also a chocolate bar?
Hiking trail?
A hidden route that starts from the parking lot of Fakistra passes through the gorge and reaches the cyclopean walls of the castle and the view of the rocks of Karavotsaksia.
Swimming?
We always have the first swim at the beginning of May in Fakistra and whoever can bear it takes a shower under the ice cold waterfall.
Flavour?
Pickled tsitsiravla (young pistachio shoots) accompanied by tsipouro without aniseed. Poverty and the culinary wisdom of the locals made wild pistachio shoots the ultimate gastronomic gem of the region.
Favourite haunts in the surrounding villages?
Apart from the many excellent gastronomic choices in Tsagarada, I would also recommend "Meintani" in Zagora, "Kritsa" in Portaria, "The tavern of Vontzos" in Mouresi, "Germanos" in Neochori and "Stefanos' Fish Tavern" in Lefokastro.
What makes you happy living in Pelion and specifically in Tsagarada?
I believe that happiness is a state of mind. To be precise, usually our mind does not leave room for happiness; we very often make ourselves comfortable in misery. The generously endowed nature of Pelion helps you unplug and relax for a few moments. This is when happiness creeps in and that is liberating.
Future Plans?
To stay healthy and at least reach the age of my father who passed away three years ago at the age of ninety three. I wish the same for the readers.
Useful Addresses
"Amanita", Tsagarada, +30 24260 49707, amanita.gr
"Meintani", Zagora, +30 24260 22626
"Kritsa", Portaria, +30 24280 90006, hotel-kritsa.gr
"The Tavern of Vontzos", Mouresi, +30 24260 49416
"Germanos", Neochori, +30 24230 55390
"Stefanos' Fish Tavern", Lefokastro, +30 24230 33551
*Information about the book "Οι γαστρονομικές ανησυχίες ενός ξενοδόχου"* (tr. "The gastronomic concerns of a hotelier") on: amanitagastronomie.blogspot.com