If you want to steer clear of summertime crowds on islands and mainland beaches, have been reminiscing the somewhat more carefree, quieter Greek holidays of decades ago, and are not interested in luxury and amenities, Kastos, a small island in the Ionian Sea, is the ideal place for you. The island is serene, quiet and fancy-free, sea and sun being its main offering.
Kastos is situated opposite the coastal town Mytikas, in western Greece's Etoloakarnania region, next to Kalamos, a slightly bigger island. Kastos, a member of the Televoid islands complex, comprising a further 17 islets and rock islets, measures just 5.9 square kilometres and has 35 permanent residents. It is a considerably popular destination for yachting and sailing tourism, this category of visitors preferring the steep coves on the west side of the island for their swimming. Kastos may be reached from Mytika, boats making the crossing every day of the week, except Thursdays, in the summer, or from Lefkada, offering boat connections every Monday, Wednesday and Friday. Keep in mind that all boats offering links to Kastos do not take cars on board, so pack light.
To the left of the harbour, a windmill, an island trademark, doubles as one of Kastos' three cafes. Yachts are moored alongside each other at the small harbour, while the island's small, sparsely populated settlement is spread over a lush hill. Both features dominate the view as you approach the island.
Do not expect luxury features, wide roads, many settlements and serviced beaches on this small island, which is all about relaxation and simplicity. Kastos has just one settlement, whose peak, known as Pano Horio (Upper Village), offers a lovely view of the Ionian Sea. Virtually everything on Kastos is done on foot and by small boat. All in all, just two pickup trucks exist on the island. If you would like to visit the island's more distant beaches, these pickup trucks also offer taxi services. Arrangements, including for the return taxi trip after your swim, are made at the small cafes.
Beaches accessible from the land are all on the eastern side of the island, while beaches at the island's rocky western side can only be reached by boat. The easier-to-reach eastern beaches are also lovely, offering exceptional waters. At Agios Emilianos beach, tall rocks to the side include a rock with a hole, referred to as Fokotrypa, hiding a small sandy bay on the other side. Abelakia, Kamini, Kalada and Vrisidi are also charming beaches, all mostly pebble-covered with some sand close to the water.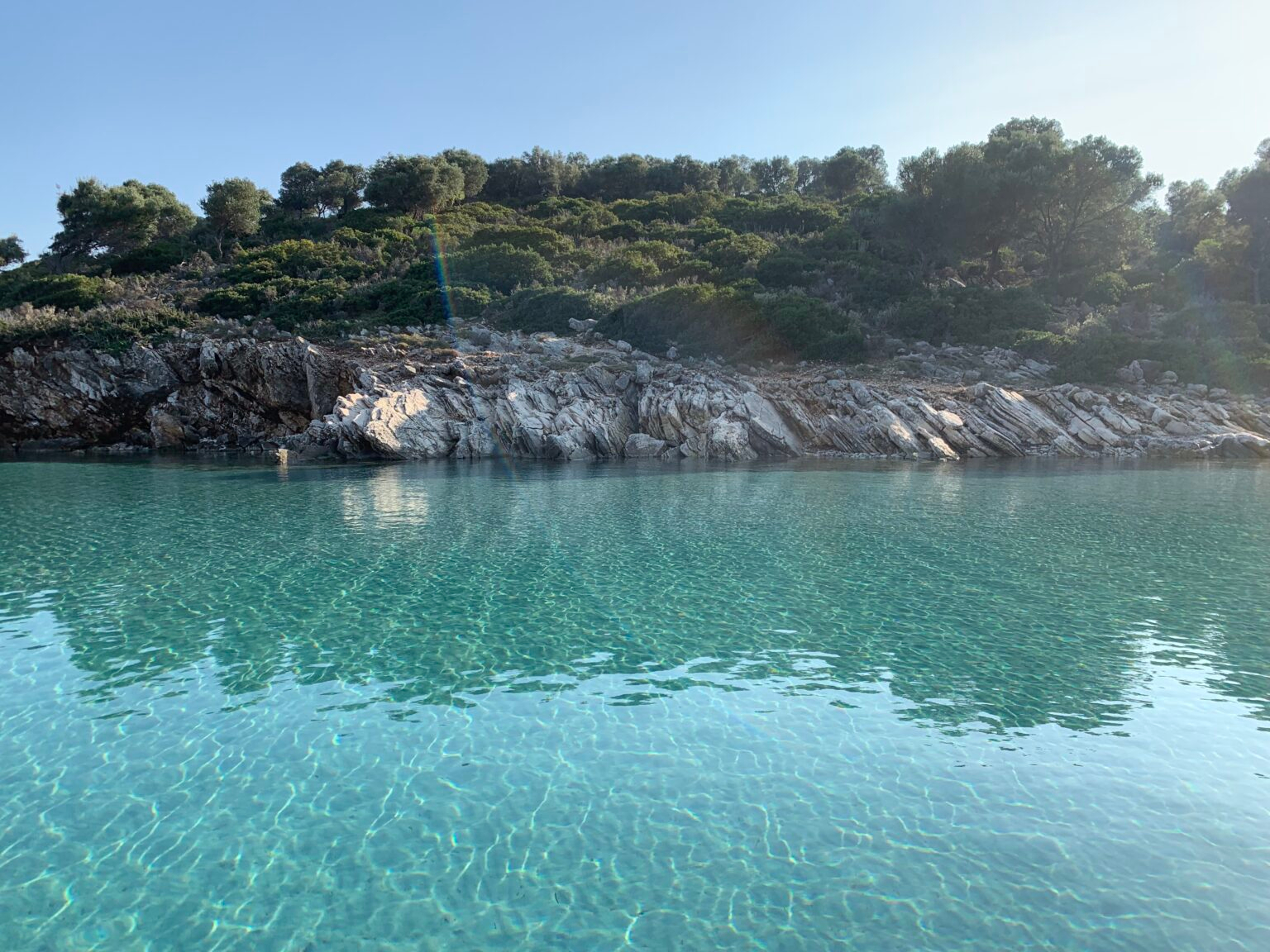 If interested in visiting Kastos, definitely plan well ahead for accommodation as the offering is limited to just five or six rooms, run by an Italian man. In high demand, these rooms are offered through a short-term rental platform. Otherwise, visitors may pitch tents at any of the island's beaches, with full respect for nature. Do not light fires under any circumstances and do not leave any rubbish behind.
Following your swim, you may enjoy a meal at one of the island's three tavernas and, in the evening, relax with a drink at one of three cafes. Outings on the island are mostly exploratory. Walk along small roads running through olive groves; head up to Pano Horio, the solitary settlement's peak, featuring old stone houses, as well as an old windmill, standing like an abandoned attraction; reach Agios Aimilianos, a chapel above the beach of the same name; head up to Ai-Giannis Prodromos, a village church adorned with oil paintings by Lefkadian icon painter Spyros Gazis as well as a centuries-old olive tree, for a view of the harbour; and, generally, just enjoy the island's tranquility and simplicity.
Food:
Windmill: Small seaside taverna serving casserole dishes and seafood (+30 2646091138).
Belos: Small taverna at the harbour with a menu offering fish, seafood, casserole recipes as well as meat-based dishes (+30 6977209442)
Il Porto: Charming taverna, also at the harbour, serving mainly seafood (+30 6909921954).
Read also:
Pisina: Miracle of nature at Ano Koufonisi
Antikythera: Slow-living holidays ideal for exploring
Heraklia: The little island-symbol of life on the Small Cyclades