Some souvlaki spots in Athens are consistently more popular than others, attracting local customers as well as from other parts of town, based on their quality and reputation over long periods of time. Our list of recommendations includes souvlaki spots applying different approaches and recipes, making them unique.
Achilleas, unbeatable gyro
The Achilleas souvlaki spot is situated at a narrow street in the Neos Kosmos district. For 34 years now, Marinos, the proprietor, inspects all ingredients before buying and prepares everything himself. He prepares the gyro, skewered pork and chicken, as well as the tzatziki (yoghurt and garlic dip). The pork gyro, without a doubt this grill's highlight, is juicy, delicious and marinated in a herb mix. Sizeable gyro pieces are cut and served in a pitta wrap or as a dish with pita bread pieces, tzatziki, tomato and onion.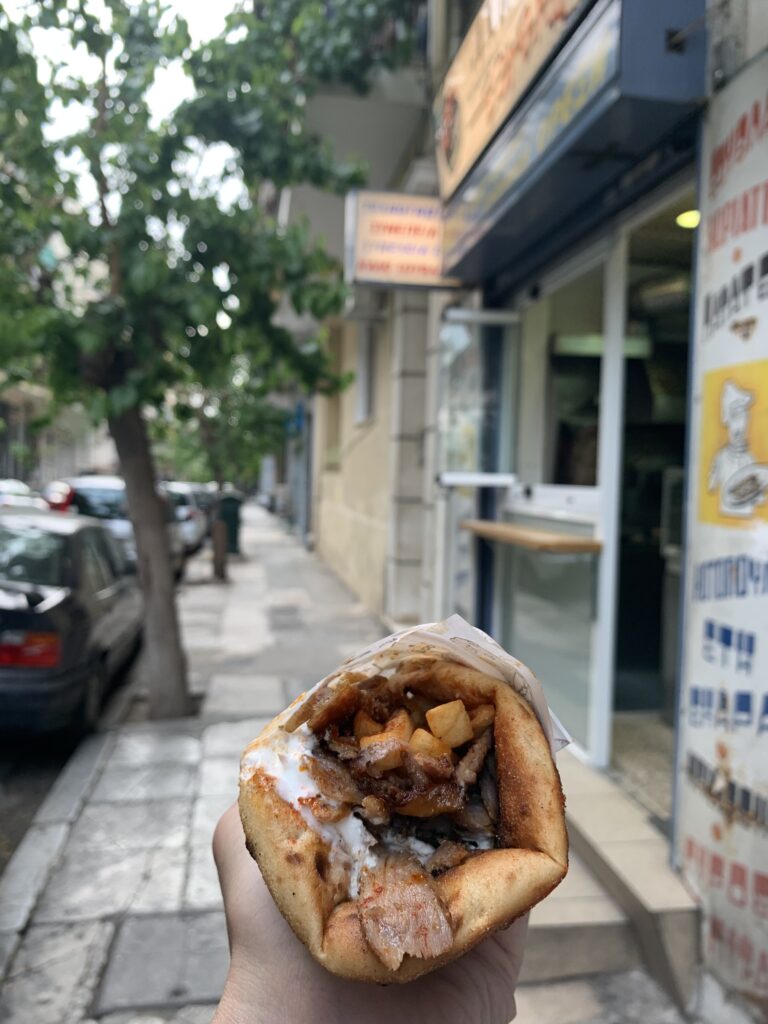 The shop does not offer tables and seats, nor does it provide home delivery service. Getting there not too late is recommended as the place can be entirely out of food after 9 pm. The spot can hold on to a few portions for you by phone.
18 Spintharou, Neos Kosmos, +30 210 9021 391
Monday-Friday, 16:30-midnight
Closed on weekends
Hoocut, all freshly cut and grilled on the spot
Hoocut, at popular Agias Irinis square in the city centre, is run by the team behind the successful Basegrill, Gastone and Cookoovaya restaurants, all having proven their meat expertise. Hoocut takes a different approach to souvlaki wraps. All meat orders – pork, chicken, beef, lamb and sausage – are freshly cut and grilled on the spot after orders have been taken. The pita bread used here, handmade and fluffy, is also baked on the spot in a pita oven. Definitely try the finely cut beef bifteki (spiced beef patty), either wrapped in pita bread or served as a dish with yoghurt, spicy tomato and onion topping. The grill offers tables with a view of the square, take away as well as home delivery.
9 Agias Irinis square, Athens, +30 210 3240 026
Tuesday-Thursday and Sunday, 12:30-23:30
Friday-Saturday, 12:30-midnight
Closed on Mondays
Souvlakopoleion Alexandros, quality meat from the butcher's shop to your dish
Souvlakopoleion Alexandros, run by two siblings, Kostas and Alexandros, was launched in Egaleo, western Athens, a number of years ago, after the brothers relocated to the capital from the Epirus region in northwestern Greece. This souvlaki grill is supplied all its meat from the family butcher's shop, managed by one of the two siblings, Kostas. The brothers prepare the gyro themselves, along with the skewered souvlaki and kebab. The meat, hailing from small livestock farms in their Epirus homeland, is trimmed of all fat, and spiced before grilling. The gyro is a main attraction here. Its taste speaks for itself. Finely cut, crispy gyro pieces are served either in pitta wraps or as dishes. Customers can enjoy meals at the shop or order home deliveries.
68 Irakleitou, Egaleo, +30 210 5310 400
Tuesday-Saturday, 12:00-00:30
Sunday, 12:00-midnight
Closed on Mondays
Mimis, premium quality pita wraps
Elvi Dimitris Zyba, an award-winning chef from the Alficon restaurant, has launched a new souvlaki spot, Mimis, in the lively Pagrati district. He offers top-grade souvlaki, using special cuts not often seen at souvlaki spots. The pork gyro is made with pancetta, beef gyro is made with picanha, and skewered souvlaki is made with chicken breast. The pitta bread, thinner and softer than normal, is homemade, at the shop. Different accompaniments and sauces, also all homemade, are recommended by the shop for respective meat choices, highlighting the flavour of cuts. Try the chicken wrap with almond sauce, tomato, yoghurt, red cabbage and crushed red pepper. Take away and home delivery are also offered.
10 Efranoros, Pagrati, +30 210 7565 789
Tuesday – Sunday, 15:00-23:00
Closed on Mondays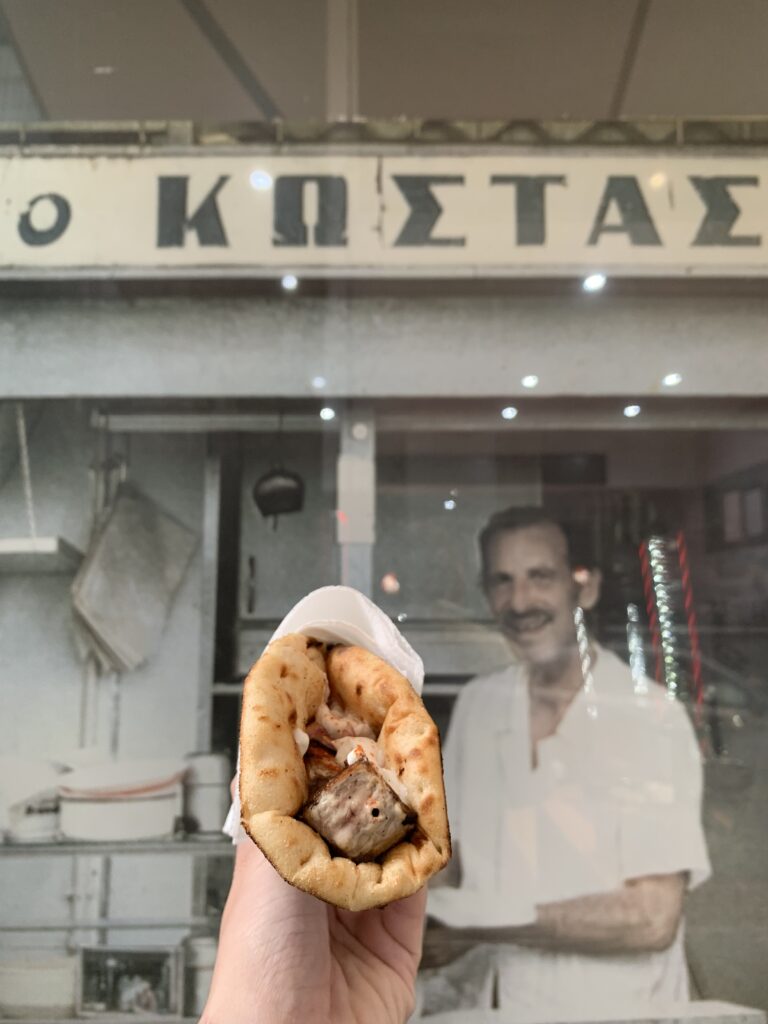 Kostas, lifelong souvlaki dedication
Kostas, a pint-sized souvlaki spot, situated in the centre of Athens, at a narrow side-street off Mitropoleos st, has been based at this address since 1950, serving skewered pork and beef bifteki, made simply yet filled with quality, either in pitta or without. The business is now run by a third generation of the family, with all the original quality intact. The meat is fat-free, charcoal-grilled and served either plain, with olive oil and oregano flavouring, as is customary at village festivals around Greece, or wrapped in pitta bread, crispy on the outside and soft on the inside, with tomato, onion, parsley, red pepper and yoghurt, which is preferred to tzatziki. The proprietors here believe the intense garlic flavour of tzatziki overwhelms meat flavour. This small shop does not offer seating. Customers can either order over the counter or online for home delivery.
5 Pentelis and Mitropoleos, Syntagma, +30 210 3228 502
Monday-Saturday, 10:00-16:00
Closed on Sundays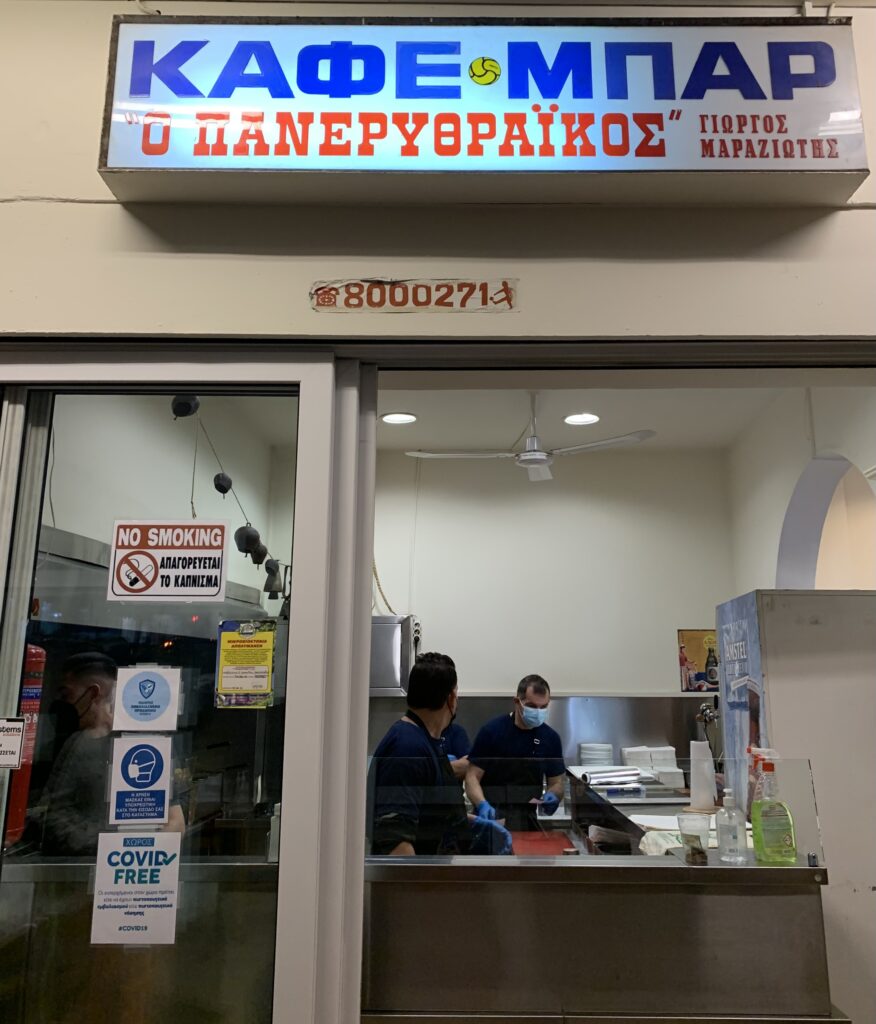 Panerythraikos, tiny grill, great satisfaction
Enjoying the city's greatest cult status, Panerythraikos, in Nea Erythraia, northern Athens, offers a village café-like setting with wooden chairs out on the pavement. The menu is limited but worth exploring to its fullest. The meat offering is limited to skewered pork, small in size but very delicious, juicy and slightly fatty. The spot also offers freshly cut fried potato chips, salad with diced and peeled tomatoes, onion and parsley, as well as feta cheese topped with olive oil and oregano. The souvlaki is served either plain or in pitta bread, oiled to perfection, with paprika, tomato, onion and parsley. One objection: The pitta bread could have been smaller for a better match with the short skewers. Whether ordered with or without pitta bread, one souvlaki here will not fill your tummy.
11 Anaxagora, Nea Erythraia, +30 210 8000 271
Monday-Saturday, 18:00-midnight
Closed on Sundays
Rosiddes, secret sauce recipe stealing the show
Situated on a side street in the Kallithea district, Rossides, meaning Russian women, has served souvlaki and pirozhki (boat-shaped buns with a variety of fillings) for some 50 years. The place is now headed by Mrs. Anna Stefanidou, from Kazakhstan. Tireless and never without a smile on her face, she grills, often making note of her secret sauce recipe added to wraps for a sensational flavour boost. Two meat options are offered, beef bifteki and skewered pork, all charcoal grilled, along with pitta bread. A spicy tomato-based sauce added to the pitta wraps combines perfectly with the meat, tomato and onion, creating a delicious overall taste. The pirozhki with sweet myzithra cheese is highly recommended. No seating is offered here, just take away or home delivery service.
16 Anagnostara, Kallithea, +30 211 1192 145
Monday-Saturday, 19:00-midnight
Closed on Sundays
Kafteros, potent spicy sauce
Kafteros, situated at a small side street off Kifisias Avenue in the Kato Halandri area, has been run by the Exarhopoulos family since 1970. The spot is renowned for its spicy sauce recipe. The menu includes skewered pork, chicken and kebab, the latter being a highlight. It is worth trying kebab as a dish, consisting of oil-free pitta bread pieces and four skewered juicy kebabs topped with tomato and finely cut onion. The spicy sauce is served in a separate plate. The only detail revealed here about the sauce recipe is that it is made with a variety of peppers and is spicy. The spot offers tables at a charming yard space as well as home delivery service.
5 Agriniou, Halandri, +30 210 6846 366
Sunday-Friday, 19:00-midnight
Closed on Saturdays
Tomas Kebab, full kebab devotion
Kebab grill Tomas, located next to the worker housing facilities in the Dourgouti area of the Neos Kosmos district, has been in business since 1983, at the same address. Founder Tomas Khampartsoum kneads mince daily for his kebabs and also prepares a variety of other Armenian delights, recipes he learnt from his mother. The lamb-and-beef kebab mix with salt and onion is undoubtedly the spot's best seller. Countless kebab skewers are prepared every morning. They are charcoal-grilled and served juicy and soft with oil-free pita bread, tomato and onion. Fried potato chips and tzatziki are nowhere to be seen at this spot. The business is nowadays headed by the founder's son, Marios, just as devoted and hard-working as his father. The spot has a limited number of tables and also offers home delivery service.
49 Mitrou Sarkoudinou, Neos Kosmos, +30 210 9015 981
Monday-Saturday, 11:00-midnight
Closed on Sundays
Lefteris O Politis, Anatolian taste
Lefteris O Politis, based on a side-street off busy Omonia Square since 1951, has now entered its third generation as a business, offering Anatolian recipes that are simple yet attentively prepared and absolutely delicious. The menu is limited to beef bifteki and Anatolian soutzouki (spicy sausage), both skewered and well grilled on the outside but still juicy. Pita bread, slightly oiled, is placed over the meat on the grill to absorb meat flavour. The meat options are served in pita wraps with tomato, finely cut onion, freshly cut parsley and chili pepper. The business also opened a second address in central Athens five months ago. Both shops have a limited number of tables and also serve take away.
20 Satovrianidou, Omonia, +30 210 5225 676
18 Romvis, Syntagma, +30 210 3310 030
Monday-Friday, 11:00-19:00
Saturday, 11:00-17:30
Closed on Sundays
Read also:
5 special restaurants in Athens that serve amazing food
5 Thai restaurants in Athens: Comfort Thai food, Asian fusion
For ouzo and fresh fish in Nea Lampsakos, a beautiful small town 80 km outside Athens