A strong earthquake shook Crete, Greece's largest island, shortly after 9:15 am on Monday morning.
According to the information available so far, the intensity of the earthquake was 5.8 on the Richter scale and occurred at 9:17 this morning, EEST.
The epicentre was 23 kilometres north-northwest of Arvi in southern Heraklion, Crete, while its focal depth is estimated at 10 kilometres.
According to the Hellenic Broadcasting Corporation (ERT), a man who was carrying out renovation work in a church was found dead in the rubble after the dome collapsed. The Disaster Response Unit (EMAK) rushed to the scene and retrieved the subject.
Another worker who was with the victim in the chapel was rescued unharmed, while a citizen in the village of Patsideros, who got trapped inside his house, as he could not open the door due to damage caused by the earthquake, was also rescued uninjured.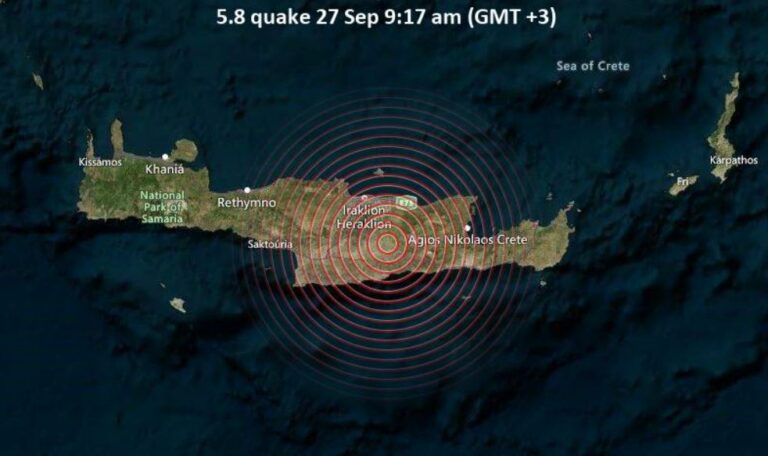 According to Civil protection authorities, at least eleven people were injured in the quake.
The Euro-Mediterranean Institute said the earthquake to be 6.0 on the Richter scale.
×
According to preliminary information, damage has been reported, mainly to old buildings, in the area of Arkalochori and in the villages of Agies Paraskies, Patsidero, Thrapanseno, Roussochoria and Archontiko, while a landslide occurred in Profitis Ilias, blocking the road to the village.