For those in Athens over the festive season, the Greek capital celebrates Christmas with an array of colourful events all over the city. The Acropolis Museum dolls itself up and flings open its doors, treating us to a number of inviting events. So why not time your visit to combine Yule Tide spice with an already unmissable Athenian experience.
The Acropolis Museum is hosting international and traditional Christmas food, song, dance, exhibits and adventures throughout December and into the New Year for young and old alike.
Eat under the Acropolis
No experience at the Acropolis Museum is complete without enjoying a meal at the restaurant on the 2nd floor alongside the sacred hill of the Acropolis. From the 20th of December til the 8th of January the restaurant will have a special festive menu. On Fridays and Saturdays the restaurant remains open until midnight, (except for 24/12 and 31/12), reservations: 210 9000915
December – Museum evening tours – Every Friday
At 6 pm in English (8 pm Greek) archaeologists from the museum will be guiding visitors around the Parthenon Gallery where they will get a deeper understanding of the Great Panathenaic Festival. Depictions on pots and vessels and marble sculptures and inscriptions reveal how the Ancient Athenians honoured their deity the goddess Athina.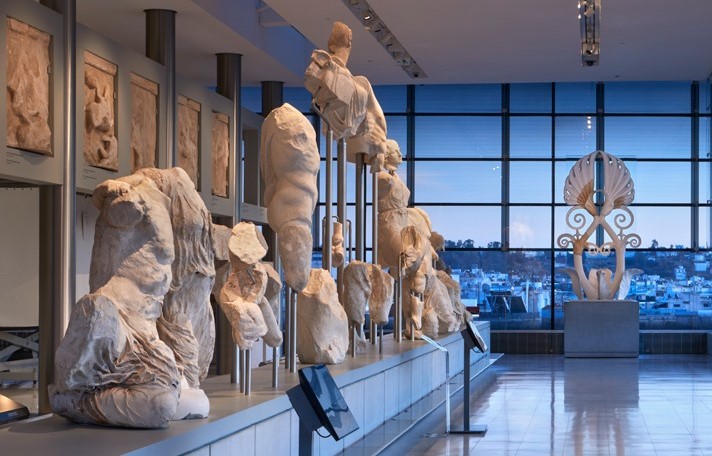 December – Hidden stories of 20+1 masterpieces – Every Saturday
At 10.30 am in English (12.30 pm Greek), archaeologists will lead visitors on a tour of the museum to highlight some of the most fascinating stories, fables and myths about, around and behind the creation of a selection of 21 masterpieces on display in the museum.
December – Christmas carols and more
11 am Thursday December 22nd, the famous Children's Choir directed by Konstantina Pitsakou of the National Opera of Greece will be performing Christmas carols during a concert at the main entrance hall of the museum. A Greek National Opera collaboration.
11 am Wednesday December 28th, 'Chórεs', a female ensemble choir, directed by Simela Emmanouilidi, will perform well-known Christmas songs and traditional carols at the main entrance hall of the museum. A Greek National Opera collaboration.
11 am Friday December 30th, the Efxinos Club of Episkopi Naousa in Imathia will perform traditional carols and Pontian dances at the museum. The group will be wearing the traditional festive costumes of the region.
Read also:
Acropolis Museum restaurant, a multicultural experience
Stroll through Athens' Exotic National Gardens, past Grand Palaces and Mansions down to Buzzy Pagrati
Six Athens museums to visit with your children