The languages spoken and the styles, including dress style, are usually very different at every table, making a visit to the Acropolis Museum restaurant feel like a gigantic journey around the world. The spot offers an amazing full view of the Acropolis, as well as the adjacent Plaka district and, as a backdrop, Lycabettus hill, whether you are seated in the dining space with glass walling or out on the amazing veranda.
Greek cuisine, as interpreted by chef Filippos Dimopoulos, is at the heart of the restaurant's offering. He gives PDO products a leading role, along with favourite traditional and urban recipes. "The partnership with our chef began in autumn, 2020," informed Mr. Giorgos Rizos, an entrepreneur backed by decades of experience in the hospitality and entertainment sectors, who took on the Acropolis Museum restaurant's management following a tender staged in 2019.
"We decided to primarily focus on Greek cuisine and Greek products," Mr. Dimopoulos, the chef, explained. "This was at the heart of the conversation with Giorgos [Rizos] from the start. The model we wanted to implement was based on the concept of having visitors experience Greek cuisine, both traditional and modern. So we prepared a menu enabling diners, whether Greek or foreign, to find classic dishes, through and through, such as moussaka, pastitsio, fasolada (bean soup), all included as dishes of the day, as well as a more modern expression of domestic cuisine," he continued.
It was around 11.30am, and a look around at the tables made it clear that diners had ordered a wide range of things, from coffee to kagianas (scrambled eggs), club sandwiches, myzithra cheese pies, cocktails and pancakes. The restaurant stops serving breakfast at 12pm, when the lunch menu is introduced. It continues to serve coffee, drinks, cocktails and snacks until closing time.
Multiethnic puzzle
"Our international diversity of customers is at once a problem and a challenge for the kitchen," noted Mr. Rizos. "Some customers may want roe, others may prefer a club sandwich, a group of customers may be in a rush and tell you that they have 20 minutes left available for a meal, or a customer may just want a coffee. The place often hosts presidents, prime ministers, high-level entrepreneurs, as well as famous artists. We are obliged to be ready to serve all these [aforementioned] things, and selections should definitely not betray their Greekness," he continued.
Luminaries aside, questions asked by ordinary customers make clear that they have a strong interest for a deeper understanding of Greek gastronomic culture, the entrepreneur noted.
Without a doubt, the Acropolis Museum's restaurant showcases Greek gastronomic culture, especially to diners from abroad, Mr. Rizos noted, pointing out that, besides travellers, the restaurant also attracts locals, almost daily, for lunch meals.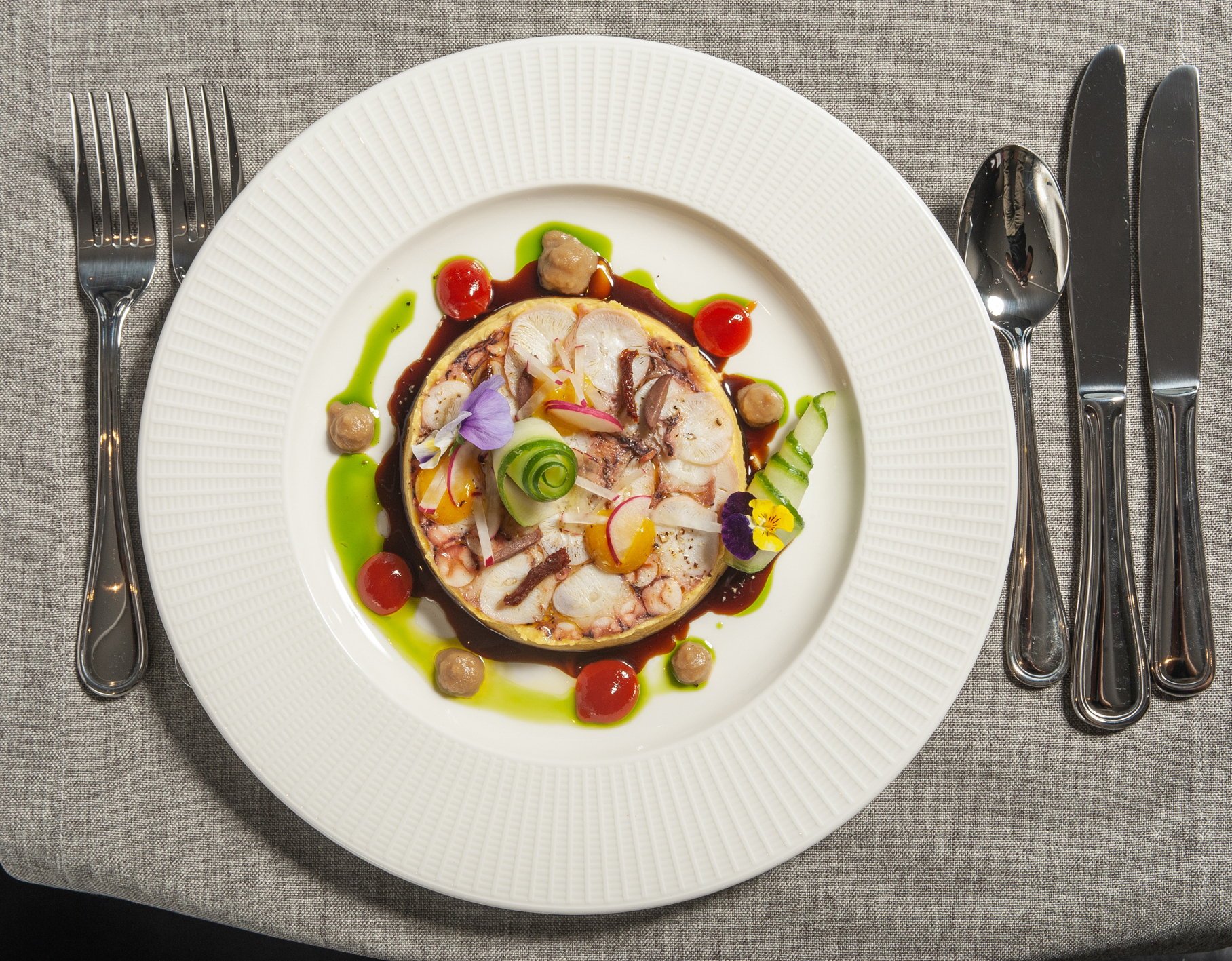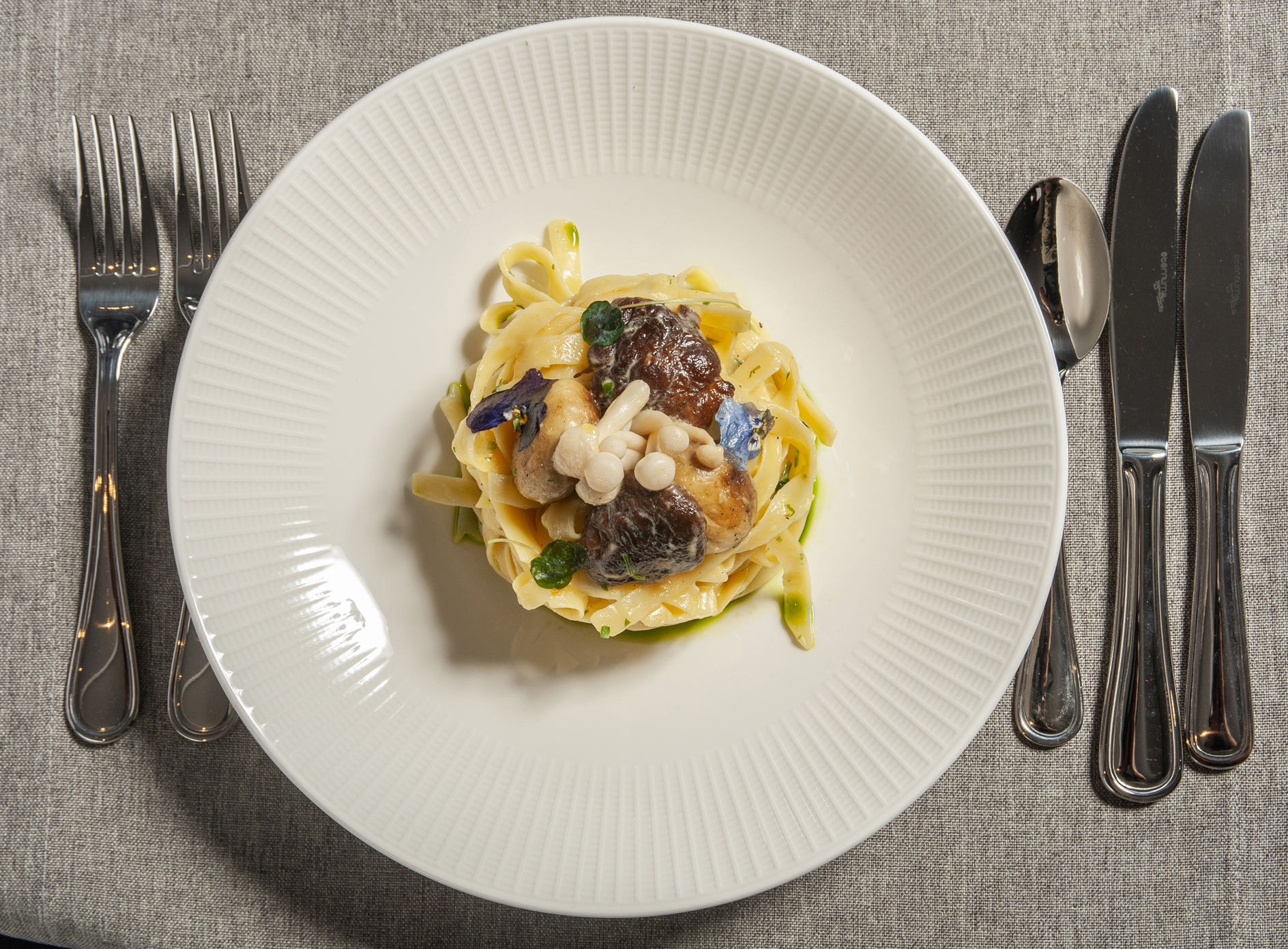 "Customers ranging from older refined Athenians to younger customers tell us they love the atmosphere and food. The mix of people is amazing here, especially in the summer. You'll see travellers from all over the world, people clad in typical explorer attire, or famous actors from Greece and abroad. It's a very cosmopolitan place, attracting a very disparate mix of people, just like the enormously wide range of gastronomic demands we need to cater to," the restaurant's manager noted.
We asked the chef if demand is high for vegan and vegetarian dishes. "Yes, it is high, and demand is increasing, in fact," Mr. Dimopoulos responded. "This is so for both diners from abroad – after all it is an international trend – and Greeks, especially younger people, who are familiar with ladera (vegetables, stewed or baked, with an extra amount of olive oil) and pulses from their homes but neither able to find such dishes at restaurants nor able to cook them. We now want to start making sugar-free sweets, possibly gluten-free sweets as well. We've been making lactose-free sweets for quite a while now," the chef continued.
Acropolis Museum restaurant now a spot for formal outings
The chef, when asked about the most popular menu item amongst diners from abroad, responded: "The first thing foreign customers order, as soon as they sit at their table, is Greek coffee. It is in extremely high demand. They never ask for freddo coffees. The cold coffees served with straws, dominant throughout Greece, are not requested here, except for frappe, which is a tourist attraction. Customers from abroad order hot coffees – espresso, cappuccino, and, most of all, Greek coffee."
Prior to the pandemic, the restaurant accompanied its Greek coffee with its very own homemade biscuits or a small piece of loukoumi, but stopped doing so as a safety measure. "We hope things have improved by the summer so that we can return to our sweet treats siding the coffee. We also intend to start serving ypovrichio (thick, sweet paste served on a spoon immersed in a tall glass of cold water)," Mr. Dimopoulos, the chef, added.
During the evening hours, the menu is revised for greater attention to modern Greek cuisine, as well as more modern dish presentation. The museum restaurant remains open until midnight on Fridays and Saturdays.
"At nighttime, our customers are mostly Greek people, trends indicating that they want dishes that are different and more formal," Mr. Dimopoulos pointed out. "They are interested in trying special recipes accompanied by a special Greek wine, to be enjoyed with the unrivalled view offered by the Acropolis, as well as lovely music played on the piano, which we shift from the dining room out to the veranda every Saturday during the summer. We have assembled a wine list in collaboration with leading sommelier, Andreas Matthidis, AIWS (Associate Member of the Institute of Wine and Spirits)."
Some examples of the dishes served at the restaurant. For lunch: Kagianas (scrambled eggs) with apaki and clarified staka butter; Folegandros matsata pasta with meatballs; rice with celeriac, mushrooms and Kozani saffron; bean salad with smoked eel and Trikala roe powder. For dinner: Beef fillet with pistachio crust, caramelised onions and Metaxa sauce; Feneo fava (chickpea puree) with skewed calamari, Lefkada salami and parsley salad.
At present, the restaurant is subject to a variety of Covid-19 public health safety measures.
The plan for the upcoming summer is to broaden the menu's Greek PDO and PGI products (including smoked fish, cheeses and charcuterie). Further ahead, the restaurant intends to offer special culinary events promoting local cuisines from around the country, with chefs or cooks from various regions preparing traditional recipes from their homelands over one or two-week periods.
At present, the restaurant is open daily from 9am until 5pm (until midnight on Fridays and Saturdays and until 8pm on Sundays). As of April, the restaurant's regular closing time of 5pm will be extended to 8pm, except on Mondays, when it will be open until 4pm. The midnight closing time on Fridays and Saturdays will remain unchanged.
15 Dionysiou Areopagitou, Acropolis,
+30 210-9000915
www.theacropolismuseum.gr/kafe-estiatorio
Read also:
6 exceptional bakeries in Athens
5 pastry shops with amazing sugar-free treats in Athens