Drama, northern Greece, is a stunning, mountainous region, criss-crossed by many rivers and streams, with dense forests of black pine, fir, beech and birches trees, that create an ideal setting for freeing your adventurous side. Use the city of Drama or one of the nearby villages, like Paranesti, Volokas or Sidironero as a base, and from there set of to exploring this unique environment by car, on foot, by mountainbike, and why not even on a raft. All you need to bring is your sense of adventure and the people of Drama will be happy to show you the rest.
Fort Lisse
Fort Lisse, at an altitude of 771m, is one of the forts built by Ioannis Metaxas (Prime Minister 1936-1941) to protect the territorial integrity of Greece (known as the Metaxas Line). Lisse was constructed on the site of a World War I fort located near the village Ochyro, a few kilometres from Nevrokopi. It consists of ten underground complexes and has a network of underground tunnels that exceed 1,700m. Its facilities include officers' and privates' quarters and mess rooms, command offices, kitchens, ammunition stores, etc., linking up with each other via narrow corridors that lead to machine gun and observation posts, as well as other ground defence works. Today, the northernmost underground complex, Heloni, is open to visitors. Here you'll explore the atmospheric passages and come across exhibits that include revolvers, pistols, rifles, carbines and automatic weapons, mainly of German and Italian origin, as well as machine guns and MG, Brenda and Hotchkiss type machine guns. Visits are by appointment only – Kato Nevrokopi (+30) 25233 50112.
The Aggitis Cave is another top attraction in the region of Drama. Located about 25km northwest of the city on the foothills of Mount Marmaro, which is part of the Rhodope mountain range, it is the largest, known, karstic conduit in Greece, with a total length of more than 15km, of which about 10 km have been mapped. Only about 500m are open to visitors, but they are well worth the effort. The cave has two entrances, a natural one which is also the exit point of the underground river and one created later when the cave opened to visitors. The first thing you see upon entering the cave is a large "spiky" dome and two passageways that pass over the river Aggitis. The huge stalagmites that are often submerged in the water, with their colours and various formations, together with the sound of the flowing river create a mysterious, eerie atmosphere.
The main path, on the left, leads deeper into the cave. Here there are some particularly impressive stalactites, as well as bats nesting in the folds of the rocks, so don't be shocked to have them flapping overhead. There's another chamber that was known well before the main chamber which is now also open to visitors, where there is a 19th century water wheel (8m diameter) that was used to pump water through a pipe out of the cave. Archaeological excavations were carried out in tandem with the caves' restoration in 1992, and brought to light mammal bones and Palaeolithic stone tools dating back between 34,000 to 27,900 years ago. As the Aggitis river exits the cave it ebbs through a verdurous valley of towering plane trees. For food head to the tavernas on the river's banks amongst the trees.
Virgin Forest of Frakto
The virgin forest of Frakto, on the slopes of the Rhodope Mountains, on the border with Bulgaria, is perhaps the most beautiful in Greece. It was declared a Nature Monument as early as 1980 and is considered the wildest forest in the country. The virgin part originally consisted of 550 hectares, but, since 2009 it has been extended to 1,715 hectares. It is one of the few unspoiled forest ecosystems in Europe and the only one not affected by the glaciers of the Tertiary period. It has remained unaffected by human activity, as it is far away from villages and because its inhospitable terrain with steep slopes is unsuitable for livestock grazing. Trees here are pretty impressive, some mighty fir trees reach 60 meters in height and some enduring beech trees up to 45 metres tall are over 450 years old. Cascading waterfalls thunder over scarred rock faces in this untamed landscape.
When here, you'll walk through perhaps the most beautiful mixed forest in the country; black pines, fir trees, beeches, Scots pines and birches side-by-side, and, depending on the seasons, beautiful flowers like lilies, bellflowers, violas, cornflowers, maiden pinks, and rare wild orchids. The forest is home to equally notable fauna, ranging from golden eagles, common buzzards and woodpeckers to tortoises, wolves, bears, deer, roe deer, foxes, and squirrels, while in the abundant waters of the forest, you'll find wild trout, otters, toads, newts, frogs, and salamanders. On the way to the forest, take a detour to the waterfall of Agia Varvara just a short hike away and you can also make a stop at Thermia, a small village with hot springs, full of makeshift shacks in the dense greenery enclosing small thermal "pools".
Elatia Forest
Another vibrant forest, that of Elatia on the Central Rhodope Mountains, is made up of European spruce firs usually only found in Scandinavian countries. This is the only area in Greece where this species can be found. These spruces can reach a height of up to 60 meters and many of them are up to 300 years old. Companions of these magnificent trees are black pines, beeches, chestnuts, maples, oaks, cedars, as well as dog roses and blueberry trees. At the Magoula, on the western part of the mountain, there is also an impressive birch forest, Karadere. It is home to bears, wolves, jackals, wild boars, foxes, roe deer, badgers, weasels and many bird species like eagles, hawks and woodpeckers.
Hiking & climbing routes
The countryside of Drama also lends itself wonderfully to hiking with a plethora of trails of varying distances, ascents and degrees of difficulty. The imposing mountain Falakro has some trails which begin from either the ski centre or the village of Pyrgi from where you can reach the peak of Profitis Ilias (2.232m), or from the village Granitis, you can climb up to the peak of Agios Pavlos at (1.769m). Other routes like those on mount Menikio wind through a stunning chestnut forest. Many trails start at the village Paranesti, making it a great place to stay for avid hikers. One highly recommended route starts from the Forest of Frakto worksite and leads to the Tzaki ravine waterfall. Also, the trails through the Elatia forest, full of spruces are favoured by many hikers, while rambling down the Aggitis Gorge near the Alistrati Cave is rewarding.
Paragliding
For your flight of fancy, go paragliding off Korilovo hill, east of the city of Drama. From April through to October people can glide off the 500m high summit (there is a cafe here for those who prefer to keep their feet on the ground). Korilovo is a great place to have some lessons or make a few 'glides' if you're rusty. The pros head to the paragliding track on Falakro, in the village of Petroussa, about 15 km from Drama.

Rafting
There are two rivers in Drama where you can go rafting, Nestos and Aggitis. For rafting on the river Nestos head to the village of Paranesti from where you start the descent. This river courses gently, without many difficult sections and you'll slosh and paddle past planes, beeches, and oak woods. Additionally, you can do the 'flying fox' (horizontal ziplining) that will have you whizzing headlong over the river. Those after a more adrenalin pumping experience chose the descent on the river Aggitis which has some quite demanding segments. The watery journey begins at the village of Simvoli next to the wild and craggy gorge of Aggitis.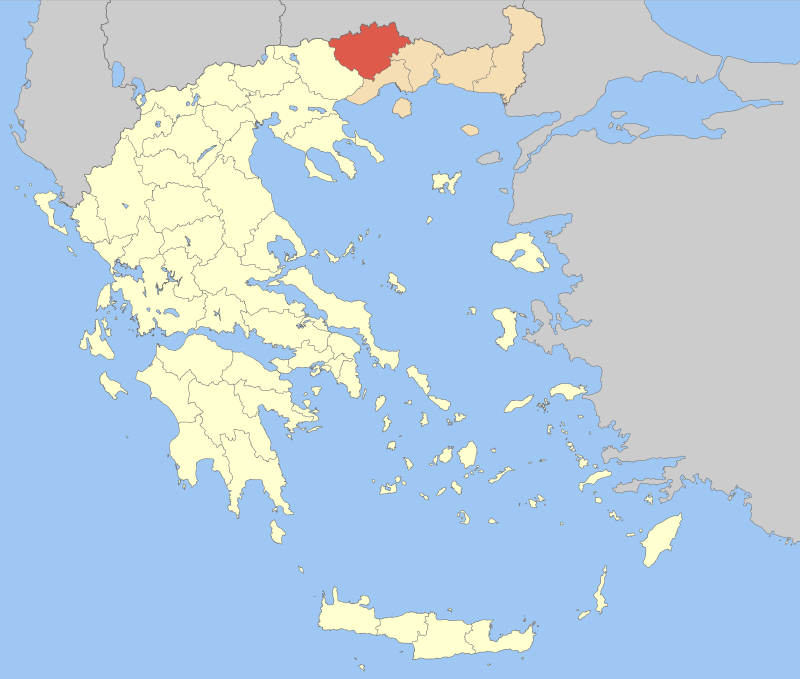 Skiing
Finally, you can ski in Drama. The resort is located at an altitude of 1,720m on Mount Falakro (2,232m) and has plenty of good quality snow for 4-5 months a year. There are several north, northwest and northeast slopes, located at an elevation of over 2,000m. In total, you can enjoy carreering down 21 pistes, ranging from 230m to 1,500m in length, as well as some lovely long-distance off-piste skiing. A chalet and a shelter offer accommodation for those who wish to stay overnight.
Read also:
A small village in Drama, Greece with great paths
Kerkini: Serene Serres lake, home to Greece's largest water buffalo population