The first time we visited northern Evia, many years ago, the first thing that impressed us were the large thick forests that sometimes even reached the seafront. Since then, the area has been affected by disastrous wildfires – with the worst ones happening last year.
The fires have left their mark in the area, but all the other beautiful things are still present: the amazing beaches, many of which are still unspoilt by mass tourism, the amazing scenery, the baths of Aidipsos, the great restaurants, especially fish taverns, offering some of the best value for money choices for fresh fish in Greece, the lovely -and reasonably priced- lodgings, and above all, the warmth and hospitality of the locals. Plus, there are still areas and trails with lush vegetation.
It's no coincidence that a few months ago, Evia was included in New York Times' 2022 List of 52 Places for a Changed World. "In the past, the list has often focused on things like a newly hot restaurant scene, an exciting new museum or the opening of a fabulous beachfront resort. This list, instead, highlights places where change is actually happening — where endangered wild lands are being preserved, threatened species are being protected, historical wrongs are being acknowledged, fragile communities are being bolstered" wrote the New York Times.
After our recent visit to northern Evia, apart from having had quality holidays, we had an extra reason to feel better and renewed. As travellers, feeling part of the solution of the locals' problems, feels so much better than staying at the best, most expensive luxury resort in the world.
We'd been planning a road trip to northern Evia for a while, but two days before our scheduled departure, our car broke down. We could have cancelled the trip, but instead we searched for another solution and we found it in Avis. We rented a spacious car to fit all our stuff, that would also be able to handle our destination's difficult roads, had low fuel consumption – a very important factor to consider these days – at a great price. So, we ended up with a far better vehicle than our own car, that would allow us to better enjoy Northern Evia, and all of this through a very easy and fast process from booking online to picking up our vehicle at Avis on the day and time we needed it.
In Agia Anna
Our first stop and the place we spent our first night was Agia Anna village, with its amazing endless beach. This area was one of the hardest-hit during last year's wildfires, and the locals are still trying to pick up the pieces of their lives.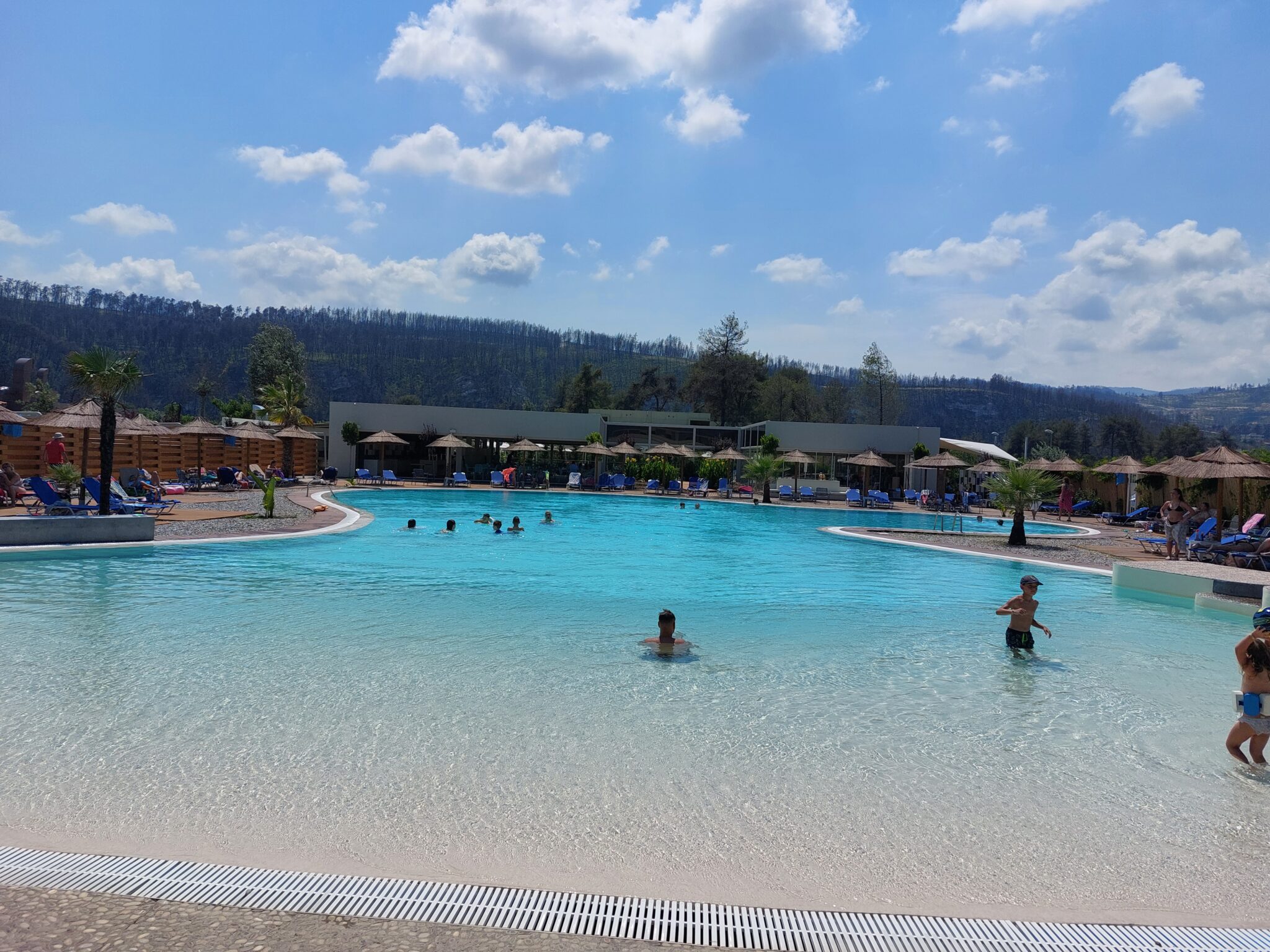 One of the positive notes is that Club Agia Anna, one of the best-known camping sites in Greece and an emblematic stay in northern Evia, that lost part of its facilities to the fire, this year has reopened after a renovation and has already welcomed many guest. There's no better vote of confidence for a place after a natural disaster than to be chosen by campers.
At Limni with the island vibes
Driving in our Avis car, on the local road network, where last year, for many days, only the fire trucks and the cars of volunteers helping with the fires could be seen, we noticed that green and blue still remain the main colours of northern Evia, with the addition of golden, from the low plants.
There are many places on mainland Greece that have an "island vibe", and Limni, the scenic seaside town in northern Evia, is probably the one with the strongest "island vibes". Walking on the seafront promenade and around the harbour is very much like being on a Cycladic island. In addition, we knew that in Limni we would be able to enjoy fresh fish and seafood at great prices. However, the trip's highlight took place on the way to Limni.
The mark of rebirth
The Drimonas waterfalls are located about midway from Agia Anna to Limni. We remembered the spot as one of the most beautiful places in Greece, with wonderful water formations hidden between thick vegetation. And even though the path was grey and burnt remains scattered the way, our hike ended in an oasis, where the water has already began its work on the earth, creating an image of joy and hope that northern Evia will be able to be reborn.
In the thermal spring capital
We won't say much about Aidipsos, the next and last stop of our trip. This famous spa town offers everything one can expect from a premium destination and much more. It's enough to say that the seafront road that leads from Limni to Aidipsos, which we enjoyed in our Avis car, also making a stop in Rovies, is one of the prettiest in Greece.
There are more than 80 thermal springs in Aidipsos, as well as impressive buildings with architectural details of the early 20th century, and the National Tourism Organization's Hydrotherapy Centre with the large shared pool and the personalized baths. There are also many hotels offering massage and spa treatments, lovely beaches, taverns for every budget with amazing food, beautiful cafés, as well as a good nightlife. You'll relax so much that you might want to postpone your return to Athens, like we did.
The lovely pedestrian seafront promenade with the palm trees encapsulates life in Aidipsos. / Photo: Shutterstock
The trip back to Athens after a four-day trip full of images and flavours was a bit melancholy, but there was a good reason to be happy, seeing the perseverance of the locals and of Nature, we are sure that on our next visit we'll find northern Evia even more beautiful and more impressive.
Why travel to northern Evia:
-Because it's a destination you can reach without having to get on a boat, which means there are no planning restrictions. And if you don't have a suitable vehicle for a road trip, Avis has a selection of cars to cater to your needs.
-Because it is a place that combines beautiful nature with history and culture. Two examples are the National Tourism Organization's Hydrotherapy Centre that houses an important archaeological collection, and the monastery of Osios David tou Gerontos (Saint David the Elder) near Drimonas which was established in the 16th century.