Shopping, Quick Stops & Ice Cream
Around the country, Greeks love grabbing a friend or 10 and flocking to a good ouzo taverna (known as ouzerie in Greek) to sit for hours sipping potent spirits, chatting and having forkful after forkful of delicious foods. The unpretentious and unassuming simplicity of these haunts is part of their appeal and contributes to a laidback, carefree ambience.
Meze (little dishes that are placed in the middle of the table and shared) made with ingredients from land, sea and sky come in every shade, texture and flavour – from creamy or spicy spreads to melt-in-your mouth stewed meats and crunchy fried little fish – and they all pair beautifully with either tsipouro (the Greek version of grappa) or icy ouzo.
The ideal setting for ouzo-meze is by the lapping of the waves, and even more ideally, on a faraway island, yet there are several places in Athens that bring you close enough to the experience. Here, we list the best of them.
I Lesvos
This ouzeri in the lively Exarchia neighbourhood has over 50 years of history and is one of the most popular hangouts for the city's ouzo lovers. Many years ago, music legends from the rebetiko music (Greece's underground blues) scene played here, and its clientele included local film and theatre stars.
Since 2006, the taverna has been run by Mihalis Giannelis, who made sure it kept its old-fashioned aura and exemplary cooking standards.
A colourful sign in the window, the wooden tables and chairs, an old chest of drawers with ouzo bottles and the etchings on the wall are all exactly as they were half a century ago. As for the piano, it's not just part of the décor – regulars sometimes play it and diners sing along. The cheerful setting and pleasant mood are enhanced by the delicacies streaming out of the kitchen and the quality ouzo from Mytilene, Lesvos' capital.
Try the crisp and delicious courgette patties, the succulent meatballs, the crunchy potato balls and the amazing homemade fava spread. From the wide variety of fish and seafood on the menu, don't miss out on the fried anchovies, red mullet and grilled sardines unbeatable.
Info: 38 Emanouil Benaki str, Athens, tel.: 0030 210 3814 525
Tsipouradiko tou Lolou
Located in Koukaki, one of Athens' hippest neighbourhoods, this tsipouro-centric place is deemed historical because of its 60-odd years of existence. It has regulars of all ages and from all cultures who keep coming back for the great food and a laidback atmosphere.
With tables set out on a verdant pedestrian street that create a carefree country village feeling and vintage movie pictures and wooden chairs indoors, this hospitable and cosy place run by Nikos and Thanassis has positive vibes.
The food is delicious and well-prepared. As everyone who loves this place can attest, Mrs Katerina's "home cooking" is palatably memorable. Fish and seafood star in the menu, are the main event; Mediterranean sand smelt (marida in Greek), picarel and red mullet are fried to perfection, and the grilled fish and seafood are succulent, especially the stuffed calamari which has a rich and full taste. Also try the mussels in lemon and oil, as well as the octopus marinated in vinegar. If you prefer meat, try the spetzofai (a traditional dish from Pelio cooked with sausages and peppers in a tomato sauce), the Cypriot sheftalia sausage and the meatballs are all utterly delicious. The menu includes popular appetizers like cheese saganaki (melted in a small pan), dolmadakia (rice-stuffed vine leaves), mizithra cheese pies, fresh salads and spreads, as well as succulent casserole dishes.
Info: 5 Georgiou Olimpiou str, Koukaki, Tel.: (+30) 210 9217 266
Kapetan Mihalis
If you leave the "Ideal" movie theatre through the back exit, you'll find yourself in front of Kapetan Mihalis – and a good meal is just what you need after a good movie. Its close proximity to several theatres has made this taverna a favourite haunt of actors and authors. Owned by the Servilakis family, the place opened almost 60 years ago, initially operating as a traditional coffee shop. When the business passed into the hands of the current owners, who are the original owners' two sons, Manolis and Mihalis, it was turned into an ouzeri. It has a few tables on the pavement outside and an equally humble setting inside: some tables against the wall, a shelf lined with bottles of ouzo and tsipouro and an open kitchen.
The upstairs space is particularly charming, with various souvenirs on the walls and a couple of tables where you can sit and enjoy a bird's eye view. The menu includes many flavoursome and aromatic dishes – from scrambled eggs with tomato and cheese (called kayana in Greek) served on sourdough bread and beef stewed in a rich tomato sauce, to from mussel pilaf and crispy pan-fried meatballs. You must also try the fried fish – including Mediterranean sand smelt, picarel, red mullet and anchovies – that is masterfully prepared and is crispy and juicy. Their specialities include snails from Crete, an acquired taste yet an addictive one too. The friendly, familiar atmosphere and pleasant vibe complete the experience of a gratifying meal.
Info: 3 Fidiou str, Athens, tel.: 0030 210 3820 073
Ouzeri I Stoa
Ouzeri I Stoa (stoa means arcade in Greek) is located in one of the most picturesque arcades in central Athens. The taverna has been around for almost 30 years and has a fanbase of regulars because of its great food, friendly staff and warm vibe. It's sprawled out in the entire space of the arcade and its large windows allow you to see the comings and goings on the streets outside. Its interior is spacious and minimal, with traditional wooden chairs and tables. The menu includes any meze that goes with ouzo, as the owner, Dionisis, says, so you can find meze dishes like siglino (traditional cured pork) from Mani, as well as tasty grilled, fried, or stewed fish and seafood dishes.
Fish lovers can rejoice at the many choices – steamed mussels, grilled octopus, charcoal-grilled calamari, fried red mullet, anchovies, Mediterranean sand smelt and salted cod – everything fresh and masterfully cooked. You can also have skordalia (a traditional garlic dip), amazing dolmadakia, and light, airy taramosalata. Apart from the quality ouzo selection you can also have try good tsipouro and house wine.
Info: 11 Themistokleous str, Athens, tel.: 0030 210 3825 961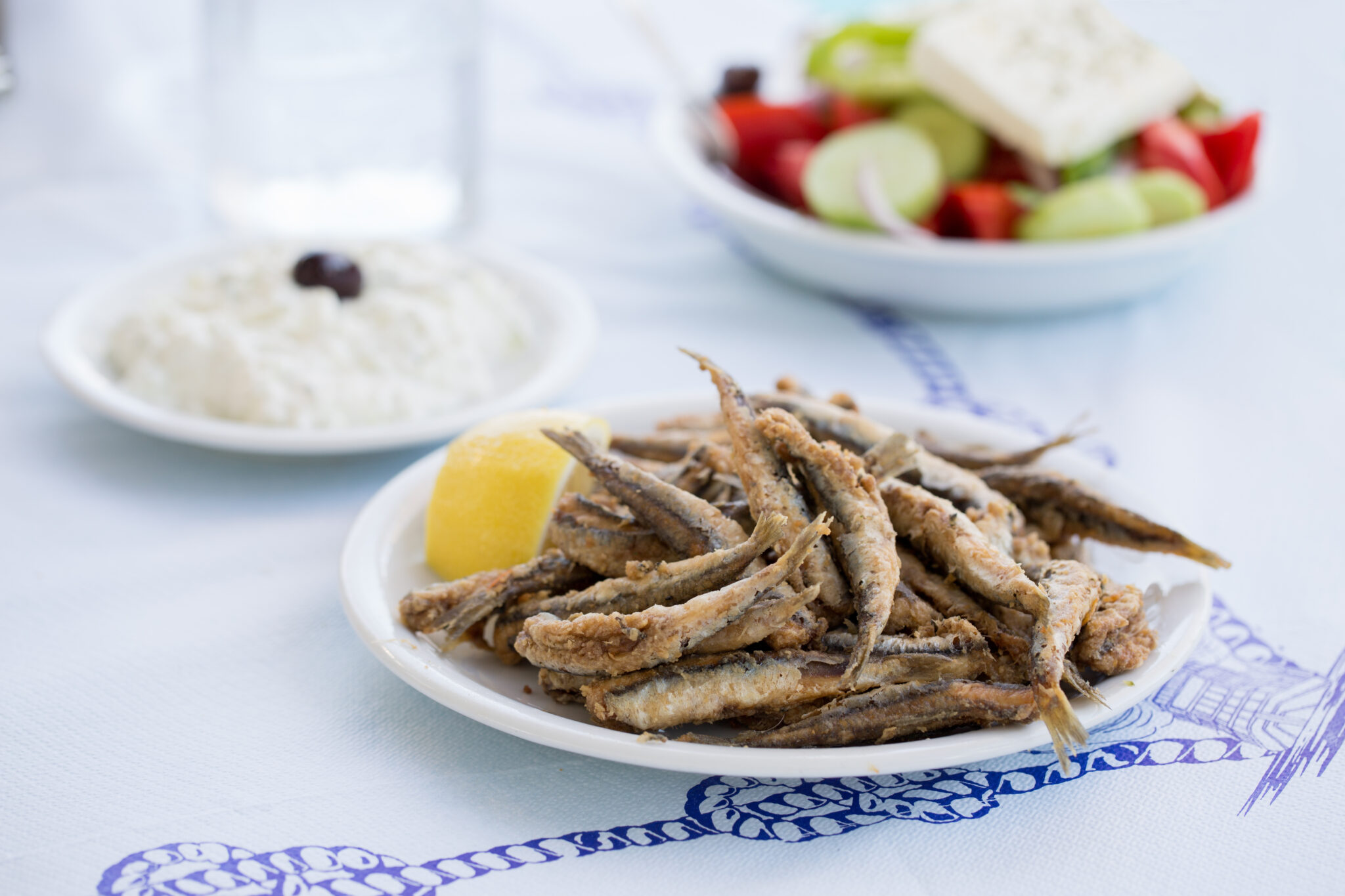 Ouzeri o Haris
On busy Omonia square, inside the Likourgou arcade, this traditional ouzeri first opened in 1962. Haris Moshovos, the owner's son, has been in charge of the small and cosy tavern since 1990. The blue tables reminiscent of the Greek islands have an uplifting appeal, while the overall décor is very simple.
Outside, together with five tables, you'll find the grill on which a variety of excellent seafood specials are cooked, their smell filling the arcade and tempting diners. The menu is modest but filled with well-known and popular foods that pair excellently with a glass of cold ouzo. The seafood is masterfully prepared, and everything is delicious, but we highly recommend the shrimp, the juicy octopus, the crispy anchovies and the grilled sardines. Foods to definitely order because of we'll they're made here are any fried fish and the saganaki.
Info: 14-16 Likourgou str, (inside the gallery), Athens, tel.: 0030 210 3244 056
To Ouzeri tou Laki
To Ouzeri tou Laki first opened in 1984, on a quaint pedestrian street near Victoria square in Kypseli. It's a small, neat, space with a few tables indoors and out on the pedestrian street. The paper used for wrapping fish at fish shops is used here as a tablecloth – one of the endearing details that make this place special. At first, it operated as a traditional coffee house with Lakis Lambrou at the helm, but Laki's son Giorgos and his wife Anna, who run the place today, have placed a greater emphasis on food.
Only using quality ingredients – they won't open the place if they can't find fresh produce on the day – they create inventive flavour combinations that push gastronomic boundaries. Try the platter of smoked fish that includes mackerel, the marinated anchovies served with a fresh lentil salad, the herring salad, and the rustic aubergine salad made with smoked aubergine and yoghurt.
The ouzeri's signature Laki salad is a showstopper – with rocket, caramelized fig, kadaifi phyllo, pistachios, anthotiro cheese and lemon sorbet create a unique dish that masterfully balances earthy, sweet, and sour flavours. Their fried fish, picarel, red mullet, soles –and whatever else was in the day's catch–, is prepared to perfection. Another must is their seafood pasta. The pasta is boiled in squid ink, something that adds an especially rich flavour. The spirit list includes over 140 labels, and the unique dishes together with the couple's great hospitality will make you return again and again.
Info: 16 Elpidos str, (Victoria square), Athens, tel.: 0030 210 8213 776
Read also:
Spring tour in Arcadia, Greece – Exploring a mythical land
Ioannina, Greece: The experiences you must have in the town on the banks of lake Pamvotida
9 picturesque destinations in Greece, ideal for excursions close to nature