Leaving behind the plains of Soudena, we go a bit further uphill towards the village of Ano Pedina. The sun is shining and the locals have already set to work. In a clearing on the side of the road, groundwork is in progress so that the animals can soon spread out freely on the plain. Arriving in Ano Pedina, we take the road leading to the main square of the village. Opposite the church of Agios Dimitrios, we notice a quite unique house. Its crimson exterior makes it stand out, but walking through the threshold, I quickly realize that its exceptional character lies in the interesting things going on in here.
The acquaintance on Rhodes
I know Rita and Giannis, the owners of the guesthouse. Rita comes from the Netherlands, while Giannis hails from Zagori. Somewhere in the mid-80s they met on Rhodes. "Giannis ran a bar on Rhodes and I had come to work as a tour guide. I've always liked Greece and I wanted to live here. We met, became a couple and three years later left the island and settled in Ioannina". Rita talks fast, mentioning many things that might seem like minor details, yet each subsequent sentence fully justifies the previous one. "We opened a tavern in the centre of Ioannina city, but a few years later we moved to the village of Ano Pedina and rented "Orestis House" on a commercial lease, a choice that led us to the present day".
As we speak, Rita is looking for something. "When I was 18 years old, back in the Netherlands, I bought these records with my pocket money". She was holding an album by Nana Mouskouri, one by Vicky Leandros and one by Demis Roussos. "We still put them on and listen to them today, and I have to admit that after all those years these records are still some of my most favourite purchases".
From an all-girls school, to a doctor's house and now a guesthouse
"While living in the area, we'd see every day this extraordinary building, built in 1850 in order to host an all-girls school, before it became a doctor's house. It had remained closed for many years and was gradually falling into disrepair. We decided to buy it and by January 2000 it was ours". I ask for more information in regards with the state of the building back then and Giannis notes: "What you see today, all functional and beautiful, was beginning to decay; scattered materials, a crumbling roof, windows ready to fall. We decided to renovate it using the same materials. We struggled a great deal, it was like trying to put together the pieces of a puzzle from which, however, some pieces may be missing. It definitely cost a lot, yet we both believe that the result was worth it". Today the guesthouse "Porfyron" consists of eight spacious and tasteful rooms, with most of them boasting a fireplace.
Rita's liquors and jams
We move on to the reception area and the restaurant. We sit at the small bar. You can't help but notice the dozens of bottles filled up with liquor in many beautiful colours. I ask about them. "I make them myself; using ingredients I source from the area and beyond". She offers me some and I do not miss the opportunity to try them. First, I try the one made from elderflower and then the Cornelian cherry one, but also the one made from narcissus, those amazing white and yellow flowers of the fields. "I make one with mushrooms, as well. It's really good. You should try it". Indeed. A brand new universe unfolds –with Rita in the role of the guide- through her liquors. In addition to the above, she also makes liquors from cherry, walnut, saffron, laurel, cedar, acacia, honeysuckle and arbutus.
While tasting the liquors, guests never cease to ask about Zagori's lush nature. "There is this one guest from England, who comes almost every year, and once asked me if I had any new flavours. I told him about the cedar one, but without showing much excitement. He tried it and from his reaction I knew that I should start serving it to our guests. He was really impressed". Next to the liquors, a few jars filled up with jam –these too are made with local ingredients.
The guesthouse's antiques
We move on to the rooms, where yet another surprise awaits me. Old furniture, antique beds and amazing light fixtures; the renovation was indeed done with absolute respect for the space. The wooden staircase leading to the first floor is a downright jewel. There is also an old map of Greece, French edition from the late 19th century. "We placed it here in order to protect it from the sunlight", notes Giannis and adds, "We wanted every guest to be able to see it. Almost all visitors remark on the map. They even came from a university asking for it. However, we decided to keep it here on our premises and preserve it the best we can". Inside every room guests will find cute liquor bottles to enjoy by the fireplace or while reading one of the many books found in the guesthouse.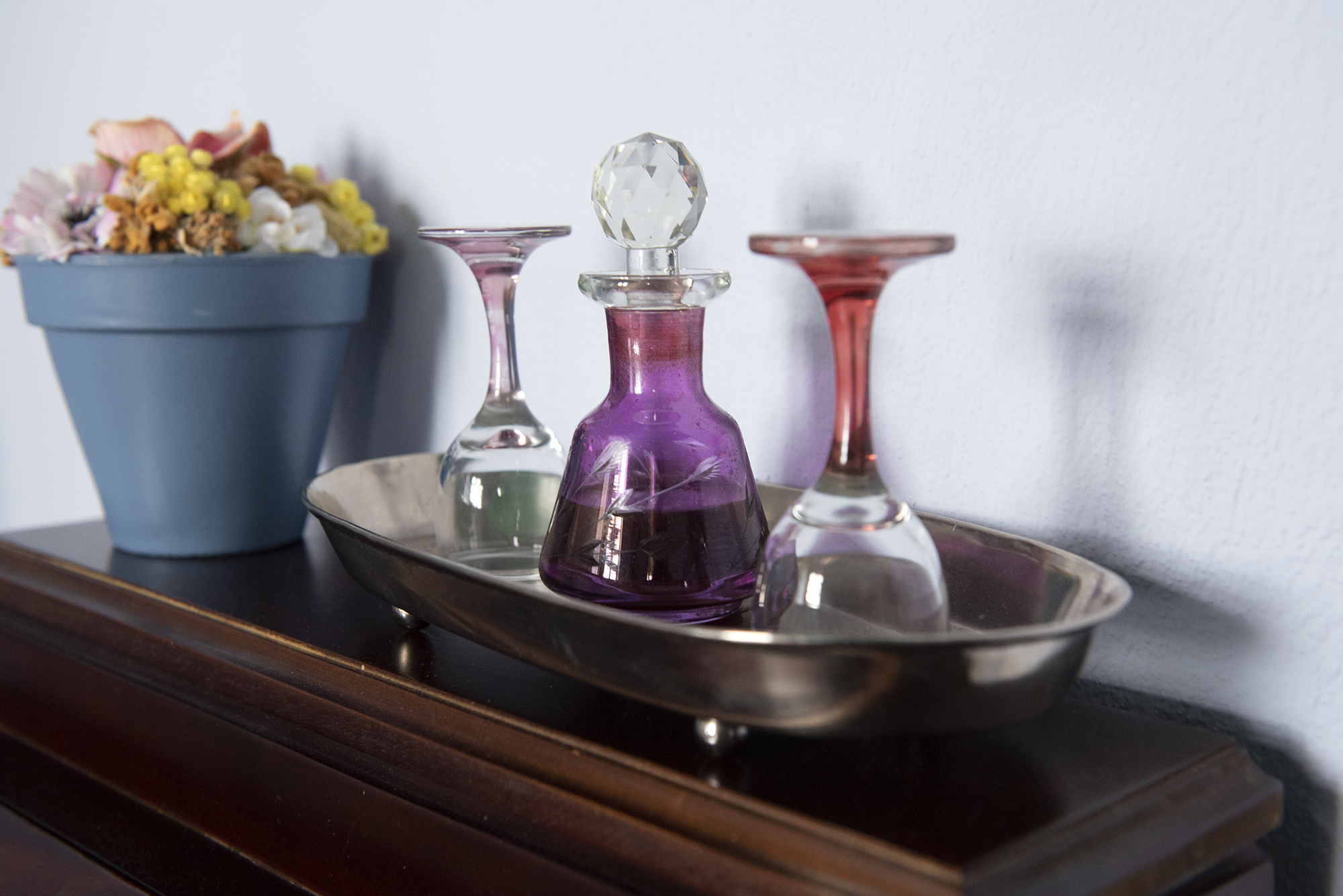 Seasonal menu
At the same time, guests can enjoy delicious homemade food, prepared by Giannis on a daily basis, insisting on seasonality and always offering a few vegan options. Depending on the season and the guesthouse's occupancy, the restaurant of "Porfyron" welcomes also costumers who do not necessarily stay at the guesthouse, but want to try Giannis dishes.
We left the guesthouse determined to return soon in order to try Rita's new liquor flavours, as she will definitely have at least a new one in store each time.